The 2022 "Silverstone Challenge", a new fundraising initiative for the Forces' Motorsport Charity launches today.
Run, wheel, walk or cycle a sponsored lap of the iconic British Racetrack (6 km) or the full 52 lap race (312 km) by the 3rd of July – the weekend of the F1 British Grand Prix weekend.
Prizes for the top fundraiser, best replica of the Silverstone circuit on Strava and best original Strava picture created.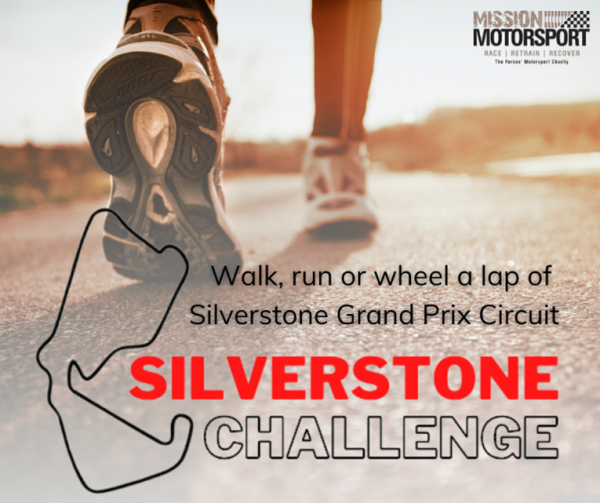 Mission Motorsport, The Forces' Motorsport Charity is thrilled to announce the launch of the Silverstone Challenge, a new fundraising initiative that gives supporters, friends, and anybody who wants to, the chance to raise funds whilst getting out and about replicating the distance of the iconic British racetrack.
Open to those of all abilities, we're asking participants to run, walk, wheel or cycle a virtual lap of the Silverstone Grand Prix circuit equalling 6 km.  Completed at your own pace, from wherever you are in the world, the only ask is that it's completed by the 3rd of July (the day of the F1 British Grand Prix).
For those who want an extra challenge, there is an option to complete the full length of the race – 52 laps totalling a staggering 312 km.
Becoming a member of the Mission Motorsport Community, those taking part will be invited to join a Facebook group where they can talk with other participants, share helpful tips, tricks, advice, and support each other as well as share updates on their progress.
Speaking about the Silverstone Challenge, Mission Motorsport Head of Fundraising Tilly Lambert- Lee said, "We're encouraging everybody of all abilities to get involved. Whether in your home, the local gym or out and about in your local area, it doesn't matter! It's about having fun, engaging with others and enjoying a sense of belonging and sharing the same goal – to support Mission Motorsport.
"In the current climate, the wounded, injured, and sick service leavers, veterans and their families that we serve need our help and support more than ever before, and as a small service charity with a national reach, we rely heavily on the generosity of others to do that work."
If raising funds for the motorsport charity is not reason enough to participate, there will be prizes for the fundraisers who raised the most money; the best replicated Silverstone Track on Strava and for best original Strava drawing.
You can sign up to participate in the event here: MM Silverstone Challenge (mailchi.mp)
You can donate to the campaign here: Mission Motorsport's Silverstone Challenge – JustGiving
Find out more about Mission Motorsport, The Forces' Motorsport Charity here: www.missionmotorsport.org