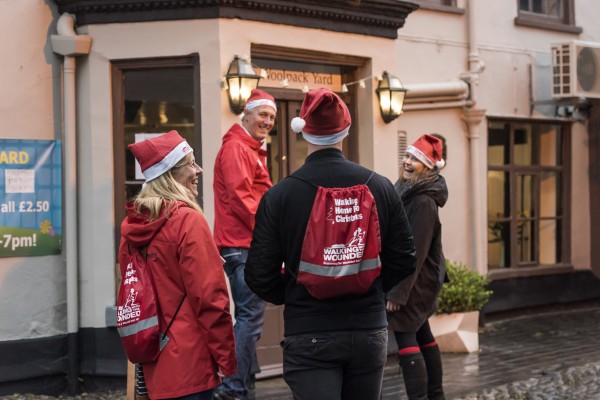 Manchester, join Walking With The Wounded at Be At One Manchester on 13 Barton Arcade for an informal drinks evening with an update on the charity and hear how you can become an ambassador for our Walking Home For Christmas campaign.
Military charity Walking With The Wounded (WWTW) is estimating it will treble the number of ex-servicemen and women it supports in 2018, following a 97% increase last year to more than 1,000. With Christmas fast approaching, for many a time of financial pressure and loneliness, more ex-service personnel than ever require support. "Therapy works. I was in denial for years, suffering in silence. It took 10 years for me to realise I needed support," says Neil from Manchester who joined the Royal Tank Regiment in December 1999.
This December, Walking With The Wounded is asking Manchester to sign up to their Christmas appeal, Walking Home For Christmas, to raise vital funds for those wounded who have little to look forward to this upcoming festive season. The charity hopes to raise a quarter of a million pounds which will enable the charity to change the lives of more than 400 men and women. The campaign is proudly supported by Wolsey, who during World War 1 supplied over 18 million woollen jerseys, scarves and pieces of underwear to the British Armed Forces. [1]
Walking With The Wounded is also hosting a Roadshow as part of the campaign this year. The charity asks that the people of Manchester join them on Monday 9th October for drinks at Be At One cocktail bar on 13 Barton Arcade. It's a free evening for supporters to meet a local beneficiary and learn how they can play a pivotal role in supporting our ex-servicemen and women this Christmas.
Evidence shows that there are still thousands of ex-service personnel like Neil who are struggling or haven't yet sought the support they require. Walking With The Wounded's mission is to support all ex-servicemen and women with physical, mental or social injury to gain the skills and qualifications necessary to develop new careers outside the military, re-integrate into society and provide long term security for themselves and their families.  In Neil's case, he struggled with his mental health after leaving the Army and was eventually diagnosed with PTSD. He was referred to WWTW's mental health programme in January 2016 and completed 12 sessions of therapy. He also received career support from one of WWTW's Employment Advisors and is now training to become an Emergency Medical Technician where he enjoys being able to help others.
Andy Sloan, Events Manager at WWTW said: "Too many of our ex-military have little to look forward to this Christmas. They've walked in far more dangerous environments for us, so it is the least we can all do to organise a walk for them."
Andy Sloan continues: "We want people to throw on a Santa hat, call up old friends and raise some funds so that we can support these men and women back into work, back into independence and into a place where they can look forward to and enjoy Christmas with their families."
Walking With The Wounded's hub on Canada Street, Manchester supports ex-servicemen and women in the region who have struggled most since leaving the Armed Forces. Some have been homeless, some have been in Police custody and many have mental health difficulties. Earlier this month WWTW Expedition Patron, Prince Harry visited the hub and our training residence, Sherpa House, which provides those men and women with temporary accommodation during their vital pathway back to independence.
Last year, the WWTW North West team led a walk from Manchester city centre, back to the hub on Canada Street as part of the Walking Home For Christmas campaign. They were joined by residents living on the street, WWTW beneficiaries and local companies who have provided employment support to local ex-service personnel.
This Christmas, Walking With The Wounded is asking the men and women of Manchester to do a walk of any sort between Friday 8th – Sunday 17th December for our wounded ex-servicemen and women, those who without our support could be on the streets, without a job, isolated from their family, in debt or in prison. This Christmas, Neil will be able to spend a more enjoyable time with his wife and children.
In addition to supporting these vulnerable men and women, Rod Eldridge, Clinical Lead at WWTW, reminds us that: "Walking as a form of physical activity is well known to be associated with improving mental health, particularly lowering rates of depression and anxiety across all age groups." It's medically proven that people who do regular physical activity have up to a 30% lower risk of depression and up to a 30% lower risk of dementia. Some scientists think that it can improve mental wellbeing because it brings about a sense of greater self-esteem, self-control and the ability to rise to a challenge.[2] Thus contributing another reason why WWTW are urging the great British public to get out and about this December, get active and in turn serve those who have served us.
For more information, please visit wwtw.org.uk/Christmas.
How to take part:
Sign up at org.uk/Christmas
Receive your Santa hat and fundraising pack in the post.
Set a date and put your best foot forward between Friday 8th – Sunday 17th December.
Inspiration:
Last year Tom (age 9) walked to school with his dad, Wendy (age 62) walked everyday in December in her local town, dressed as Father Christmas and Adam (age 36) ran from Bath to Belfast to join his family for Christmas Day. Whatever you decide to do, your steps will make a difference to the futures of our wounded.
Have a question?
Email whfc@wwtw.org.uk or call 01263 863902
[1] https://wolsey.com/pages/history
[2] NHS Choices: http://www.nhs.uk/Conditions/stress-anxiety-depression/Pages/mental-benefits-of-exercise.aspx