The Armed Forces Covenant Fund Trust (the Trust) has announced 60 awards made from the Armed Forces Covenant Fund's Removing Barriers to Family Life programme, totalling just over £7M.
Awards were made at two levels, medium grants of £30k to £100k and large grants of up to £300k or more, for exceptional, transformational work.
Funding transformational work
The Trust has supported a whole range of work to benefit Forces families, from supporting military spouse and partner employment and the development of the co-working hubs opening at or near various military bases, to supporting those families transitioning out of the Forces, or becoming more dispersed with the advent of the Future Accommodation Model (FAM) and the extra challenges this may bring.
Melloney Poole, Chief Executive of the Trust, said:
"The projects supported address a variety of the challenges and needs within Armed Forces communities. This programme firmly focused on the families of those who serve or have served. Those who are left behind when soldiers deploy, those who stand by their veteran through challenging times following Service. We're delighted to have some truly transformational projects receive a much-needed funding boost and we're excited to see the positive impact this will have."
In Scotland, Royal British Legion Industries (RBLI) were awarded £91,072 to provide spouses and partners with meaningful paid work experiences that are designed to reduce isolation, engage participation and increase skills, which will contribute to positive mental and physical health.
Michelle Ferguson, Director at Scotland's Bravest Manufacturing Company, a division of RBLI said:
"We are absolutely delighted to be funded by the Armed Forces Covenant Fund Trust. This particular project offers spouses and veterans' partners the opportunity to benefit from a dedicated project aimed at reducing isolation and creating greater community cohesion. Case studies we have collected over the past year demonstrate just how vital this work is, we already work with a number of veterans' family members and we know that this project will help to tackle loneliness by giving them the tools and support to establish strong support networks.

We are so pleased that we can provide practical assistance and importantly increase their resilience, which will ultimately lead to a more fulfilling and meaningful transition back into civilian society."
Keeping families connected 
Reading Force received £90,000 to support Service children during significant life events including deployment, illness/injury of a parent, moving home and school, parental divorce/separation, and distance from extended family. Their 'Keeping Families Connected' project will help tackle the stress and separation anxiety some feel, by supporting good communication and family bonding through sharing books, chatting about them and scrapbooking.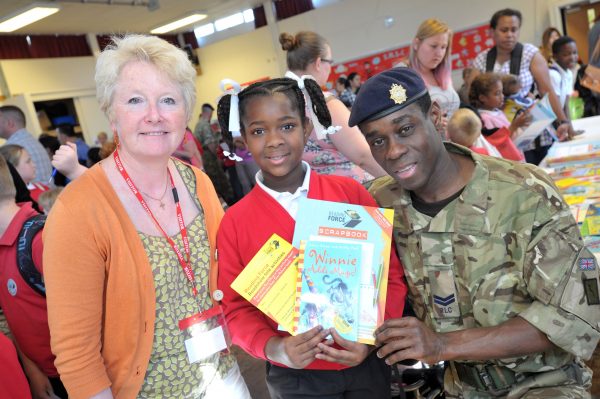 Professor Alison Baverstock, Founder & Director of Reading Force (and Army mum and wife for 25 years) told us:
"When Forces families are separated, through deployment or training, or just under pressure, it can be hard to talk about what's going on. Communication through shared-reading can keep everyone in touch – thinking about how someone else will respond to the book you are both reading lasts much longer than a text message, email or phone call. We are so grateful for this generous support of our work, as much for the confidence shown in us as the money which enables us to continue our important work within the military community."
Find out more
To learn more about this programme and view a full  list of grants awarded, visit the Trust's website at www.covenantfund.org.uk
The Armed Forces Covenant Fund Trust is an independent charity that manages the grant programmes funded by the Covenant Fund.
We also run wider funding programmes that support the Armed Forces community.
These include the £10M Veterans Mental Health and Wellbeing Fund.
Media contact: Sonia Howe, Director of Policy Sonia.howe@covenantfund.org.uk