Event in aid of The Royal British Legion
Hosted by Queen's Park Rangers FC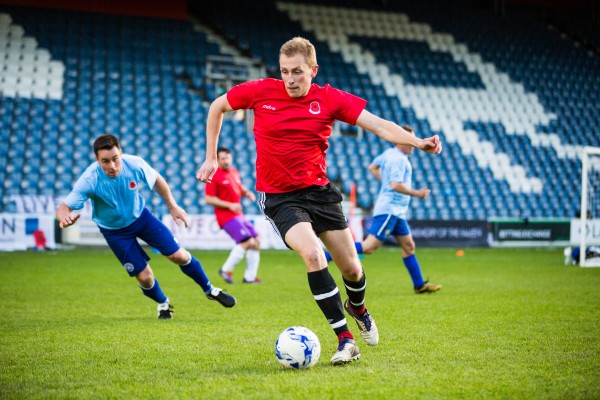 Nine teams of employees from M&S, Rolls-Royce, The City of London Corporation, Osborne, and Stackhouse Poland, have competed against Paratroopers from 4th Battalion, Parachute Regiment, in a charity six-a-side football tournament held at Queen's Park Rangers FC on Friday the 12th May.
The M&S B team were crowned champions, playing Rolls-Royce in the final and winning on penalties.
The tournament raised £20,000 for The Royal British Legion, which will help the charity provide vital support services to the Armed Forces community.
This was the first year the tournament has been held and following its success the Legion is now planning to repeat the event annually.
Darren Fuller, Legion beneficiary and the charity's Community Fundraiser for Essex was also present to talk to the players and their supporters about the Legion's work and how it helped him.
Darren, from Colchester, served 20 years in 2nd Battalion The Parachute Regiment. During this time, he completed tours of Northern Ireland, Macedonia, Iraq and Afghanistan. Darren lost his lower right arm whilst serving in Helmand province, Afghanistan, in April 2008.
Following his injury, The Legion stepped in to make a number of adaptations to Darren's house which helped to improve his day-to-day life and regain his independence. Darren was medically discharged from the Army in 2014, before joining The Royal British Legion to coordinate local community fundraising efforts in Essex.
Louise Ajdukiewicz, Interim Assistant Director – High Value Giving for The Royal British Legion, comments: "We'd like to thank everyone who took part in the tournament and made it an exciting day for all involved. It raised a significant amount of money which will help the Legion provide advice and support to members of our Armed Forces, past and present, and their families."
– Ends –
Notes to Editors:
The Royal British Legion's work is encapsulated in its motto: Live On – to the memory of the fallen and the future of the living. The Legion is the nation's biggest Armed Forces charity providing care and support to all members of the British Armed Forces past and present and their families. It is the national custodian of Remembrance and safeguards the Military Covenant between the nation and its Armed Forces. It is well known for the annual Poppy Appeal, and its emblem the red poppy. www.britishlegion.org.uk