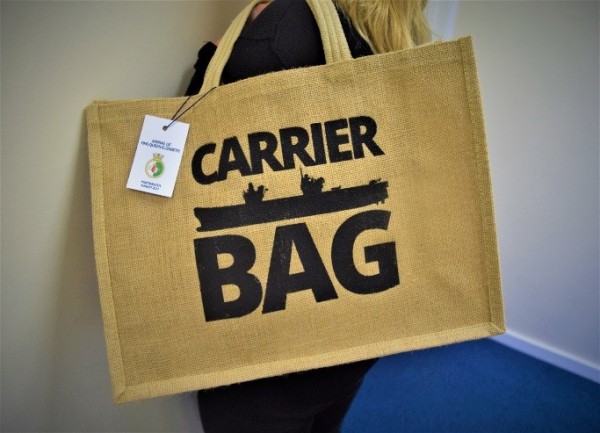 The Royal Navy and Royal Marines Charity have been overwhelmed by the popularity of their 'Carrier Bags' which commemorate the arrival of the Navy's newest Aircraft Carrier the HMS Queen Elizabeth. The limited edition 'Carrier Bags' have raised thousands of pounds for The Royal Navy and Royal Marines Charity (RNRMC) and are fast becoming the unexpected must have item of the summer  
The stylish hessian bags that feature an artistic stencil of HMS Queen Elizabeth have sold at such an impressive rate, that over 1000 bags were sold within the first 12 hours alone.
Not only are the 'Carrier Bags' a memento of an historic day in Britain's naval history but 100% of the funds raised by the bags will go towards aiding the naval community. As the official charity of the Royal Navy, the RNRMC's mission is to ensure that sailors, marines, veterans and their families are supported, for life.
The charity placed the 'Carrier Bags' for sale on the Thursday evening after HMS Queen Elizabeth arrived and have since had a plethora of diverse customers from all over the world make contact to enquire about the availability of the jute bag. Enquiries have flooded in from all over Europe and as far away as the United States of America, Australia, Canada, Norway and even Japan!
Having arrived home in Portsmouth on Wednesday 16th August, the magnificent HMS Queen Elizabeth is the Navy's largest ever ship and weighs a whopping 65,000 tonnes. Thousands of people lined Portsmouth Harbour early that day to witness her finally arriving home. The ship is a sign of Britain's commitment to re-establish itself at the forefront of maritime power.
Director of Fundraising and Marketing at the RNRMC, Alasdair Akass said: "It was incredible to witness HMS Queen Elizabeth return to her homeport on Wednesday and I think the charitable sale of these fabulous jute 'Carrier Bags' ultimately reflects the public's pride and admiration for both the QE and the Royal Navy. With sailors aboard HMS Queen Elizabeth away on deployments for up to 9 months at a time, it remains imperative that as a charity we continued to support both our sailors and those partners and family members left at home."
Bags are still available for purchase through the RNRMC's website and select retailers for £6 (inclusive of VAT) with all profits going to the charity. For more information visit rnrmc.org.uk.