A new telephone support service for ex-service personnel has been launched by the Armed Forces charity Alabaré.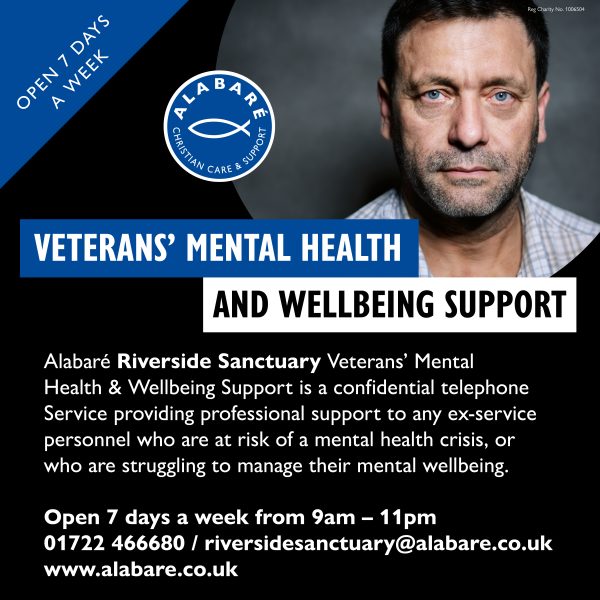 The service will help Veterans who are struggling with their mental health and wellbeing and will provide specialist support to those in need, including guidance, advice and coping strategies specifically to manage anxieties around the Coronavirus pandemic.
A recent survey has found that there has been a 50% increase in Veterans stating they are not managing their mental health well compared to before the pandemic started*.
Emma Wellock manages Alabaré's Riverside Sanctuary mental wellbeing support service, from which the new Veterans helpline will be run.  Emma said;
"We are delighted to be expanding our support service to provide a dedicated new helpline for Veterans.  We are here 7 days a week to provide them with the support they need through these difficult times. The lockdown has been difficult for many of us but particularly acute for some ex-service personnel who are already living with complex challenges in their mental wellbeing."
Alabaré run a range of accommodation and support services for Veterans.  Their Homes for Veterans provide housing and support for around 115 Veterans every night across the South West of England and throughout Wales for ex-Armed Forces personnel who could otherwise be forced into sleeping rough on the streets. Of those currently supported by the charity, 44% of Veterans had stated that they had struggled with their mental wellbeing.
The new Veterans helpline service has been made possible thanks to financial support through the Armed Forces Covenant.
Any Veteran wishing to access the telephone service can do so every day from 9am – 11pm by calling 01722 466680.