David Brocklehurst, 83 and from Cromer, is delighted that their work "it'll do" has been featured in Blind Veterans UK's annual exhibition fundraiser.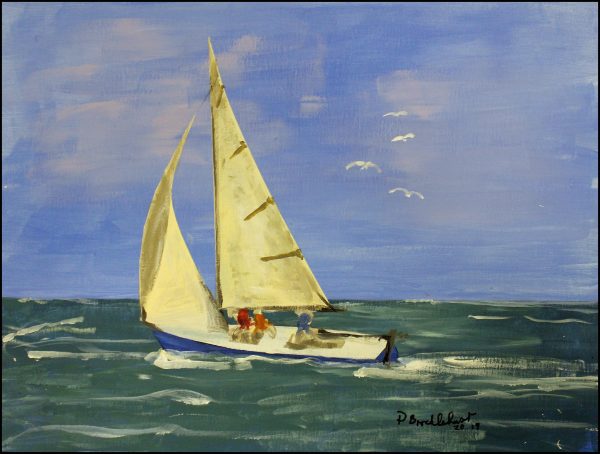 Taking on the theme of 'transport', all artwork featured in the exhibition will be displayed at the Brighton rehabilitation centre and available to bid on until 1 November 2019.
David says:
"I've got very poor vision these days with my glaucoma and macular degeneration so painting is certainly a challenge. But with the techniques and equipment that Blind Veterans UK have given me, I'm able to just about manage.

"My family are very proud of me and I'm excited to see how much the painting sells for!"
As well as artwork created by other blind veterans, the exhibition also includes pieces by staff and volunteers associated with the charity.
Since the charity first started its work in 1915 with soldiers returning from World War One, the role of art and crafts has been integral to the rehabilitation of its veterans.
From craft skills such as basket-making, woodturning and frame-making in the charity's early days, to today's activities of painting, photography, sculpture and mosaic, blind veterans are able to build their sense of independence and develop their creativity.
While once the focus of such training was primarily on the vocational aspects of these skills, blind veterans are now supported in the Blind Veterans UK specialist Art & Craft Workshop to explore the recreational benefits of the arts.
Whether it's helping to rediscover a skill someone thinks that they may have lost, or encouraging our veterans to try something they've never tried before, confidence gained in the workshop often helps to overcome many of the barriers and challenges of sight loss.
Louise Kirk-Partridge, Rehab Lead in the Art & Craft Department at Blind Veterans UK says:
"We're absolutely delighted to be opening this year's Art Exhibition at the Blind Veterans UK Brighton centre. We've been accepting entries for the past few months from our blind veterans as well as the charity's staff and volunteers and we can't wait to share the results of their work.

"Having the chance to pursue the creative arts is a fantastic way for our veterans to regain confidence after sight loss. This exhibition is a real opportunity to showcase that there really is no barrier for its enjoyment, while also raising much-needed funds for the charity."
The unique pieces of artwork, especially created for the exhibition, have been entered into a silent auction and are available to bid on until noon on Friday 1 November 2019. To view the catalogue and find out more about how to enter a bid online, please visit: blindveterans.org.uk/brightonexhibition 
For all media enquiries please contact:
William Witt, Regional Marcomms Executive, william.witt@blindveterans.org.uk / 07599 556664
Notes to Editor
Blind Veterans UK helps vision-impaired ex-Service men and women of every generation rebuild their lives after sight loss. Since 1915 we've provided rehabilitation, training, practical advice and emotional support to tens of thousands of blind veterans.
Find out more at: blindveterans.org.uk and follow us on Facebook at: facebook.com/blindveteransuk and on Twitter at: twitter.com/blindveterans.