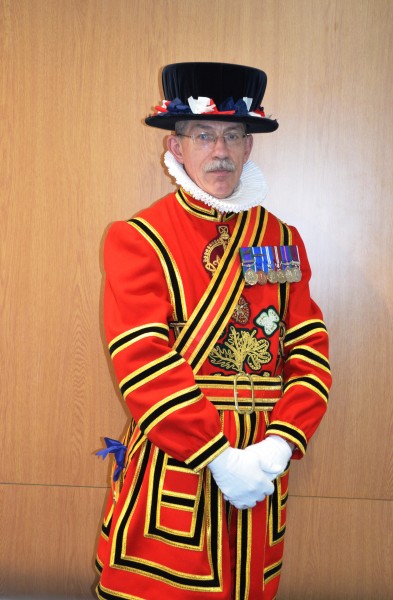 A veteran from North Yorkshire is currently training to compete in a 100km walk from London to Brighton for Blind Veterans UK, the national charity for blind and vision-impaired ex-Service men and women.
Mark Sullivan, 60 and from York, will be attempting the mammoth challenge for the fourth time, having previously completed both the 100k London to Brighton and the 100k Yorkshire. He also completed half of the 100k London to Brighton one year. He explains: "I just love the whole event. It's a superb charity and very important to me that I'm able to support the blind and vision-impaired veterans of our country.
"I've always found that charities of a similar size to Blind Veterans UK really benefit from individual donations. Therefore by taking part in these kinds of events, you know you'll be making a big difference."
Mark joined the Army in 1976 and became part of the Intelligence Corps. While with the Army, he served in Northern Ireland, Hong Kong, Cyprus, Germany and Bosnia. He left in 1998 after 22 years of Service as a Warrant Officer Class I, the highest rank for a non-commissioned officer.
Mark then went on to become a lecturer at York's St John University, while he also joined the Army reserve, where once again he was part of the Intelligence Corps. Shortly after leaving the Army, Mark signed up to be a military instructor on the first series of Lad's Army, which saw 30 young British men undertake National Service-style training. The show was filmed entirely in 1950s-era uniforms and Mark gained a national reputation as a tough drill sergeant through his work on the programme. He reprised his role in Bad Lad's Army.
As Mark continues his busy training schedule, he's keen to encourage others to take the philanthropic plunge and sign themselves up. He says: "Mark says: "I've seen for myself the amazing work that Blind Veterans UK does and the huge difference it makes in the lives of the thousands of veterans it supports.
While 100km is unquestionably a daunting prospect, with the right preparation, it's more than possible to finish! The most important to thing is to enjoy it. Enjoy the whole thing, it's a fantastic day!"
The 100k London to Brighton will take place from 7 – 8 July 2018. It will see participants start off at the Hammersmith and Fulham Rugby Club, before crossing the North Downs, walking via woodland and small villages to Sussex and through the South Downs.
Registration is currently open with a fee of £50 for individual and team entrants, and £100 for relay teams. There is a minimum sponsorship pledge of £300 for individuals, £1,250 for teams and £500 for relay teams. The all-inclusive entrance fee includes lunch, dinner and breakfast at numerous rest stops, snacks and refreshments along the route and a free event t-shirt.
To sign up for the Blind Veterans UK 100k, please visit blindveterans.org.uk/100k.
For all media enquiries please contact: Felix Arbenz-Caines, PR Assistant, Blind Veterans UK, 12 – 14 Harcourt Street, London W1H 4HD, E: Felix.Arbenz-Caines@blindveterans.org.uk, T: 020 7616 7941
Notes to Editor
Blind Veterans UK
Blind Veterans UK is a national charity that believes that no-one who has served our country should have to battle blindness alone. Founded in 1915, the charity provides blind and vision impaired ex-Service men and women with lifelong support including welfare support, rehabilitation, training, residential and respite care.
Find out more at: blindveterans.org.uk, follow us on Facebook at: facebook.com/blindveteransuk and on Twitter at: twitter.com/blindveterans.