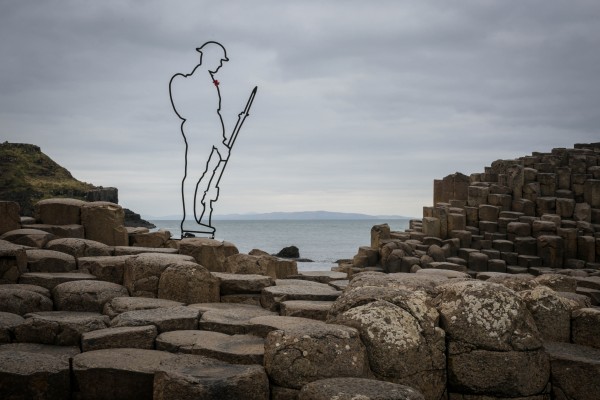 Ghostly figures of First World War soldiers or 'Tommies', have sprung up all over the UK today, as part of a new fundraising campaign led by former Chief of the General Staff, General The Lord Dannatt and supported by Birdsong novelist, Sebastian Faulks.
Hoping to raise in excess of £15 million for armed forces and mental health charities, including Walking With The Wounded, the six foot high Tommies are part of a nationwide art installation called 'There But Not There'. The campaign marks 100 years since the end of the First World War and aims to commemorate all those who lost their lives.
Tommy installations have appeared in sentry boxes usually manned by Yeoman Warders at the Tower of London, on Giants Causeway in Northern Ireland, at Big Pit National Coal Museum in Blaenavon, South Wales and at Heart of Midlothian Football Club in Edinburgh.
The Tommies will be touring the country until Armistice Day and members of the public are being encouraged to buy their own 10 inch versions to remember their own relatives. The money raised from the sale of these commemorative figures, which are made by military veterans, will be distributed evenly between The Royal Foundation: Heads Together, Walking With The Wounded, Combat Stress, Help for Heroes: Hidden Wounds, The Commonwealth War Graves Foundation and Project Equinox: Housing Veterans. Alongside the touring Tommies, local community groups, such as schools, businesses, places of worship and village halls will be given the opportunity to host their own 'silhouette installations'.
The silhouettes, different in shape to the standing Tommy, are designed to fit into seated spaces and were inspired by an art installation by Martin Barraud at Penshurst Church in Kent in 2016. The installation at Penshurst Church included 51 silhouettes, one for each name on the local Penshurst war memorial.
It is hoped that communities will honour the fallen on their own local war memorials, by placing a silhouette for every man that fell in local community spaces.
There But Not There Patron, Lord Dannatt said: "The poppies at the Tower of London captured the start of the national WWI commemoration – There But Not There will be the abiding concluding image."
He continued: "In buying the Tommies and silhouettes, people are not only commemorating the sacrifice of hundreds of thousands of British and Commonwealth soldiers, they are also supporting the veterans of today, with all profits going to charities supporting the armed forces community."
Commenting on the There But Not There campaign, WWTW Co-Founder and CEO, Ed Parker said: "The centenary of the Armistice marks a defining time in our history. So many people sacrificed so much in those war years and we must remember them. This project is a fitting memory to our forebears and Walking With The Wounded is honoured to be one of the beneficiaries of people's generosity. While it is crucial we remember the past, we must not ignore the present, and as a charity we will continue to provide support to men and women who continue to serve on our behalf, particularly those who have struggled since they left the Armed Forces. There But Not There will help us do just that."
For more information about There But Not There or to see how you could get involved in holding your own installation, please visit: www.therebutnotthere.org.uk