18th August 2017
Simon and Alison have completed their incredible 5 ½ month journey, hiking the famous Appalachian Trail.
The couple have raised over £4,300 for military charity Walking With The Wounded.
On their return to the UK, they are due to meet with beneficiaries of the charity at WWTW's Manchester office.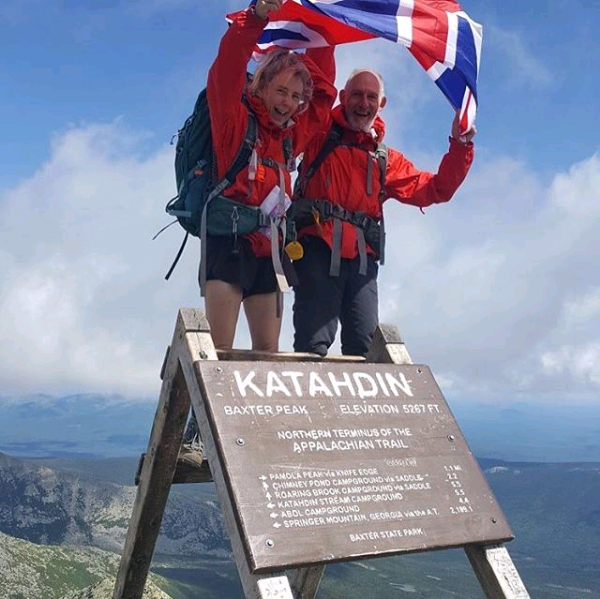 Simon Richard and Alison Shelford from Nottingham, UK have fundraised over £4,300 for wounded ex-servicemen and women by hiking the Appalachian Trail. The route runs between Springer Mountain (Georgia) to Mount Katahdin (Maine) in the eastern United States, navigating a total of 14 states and approx. 464,500' gain/loss in elevation. It attracts over 3 million visitors a year as the longest hiking-only trail in the world.
Simon and Alison began the epic 2,190 mile journey on foot from Georgia to Maine on 1st March, with the aim to finish at Mount Katahdin mid-August (a total of 5 ½ months walking).
Despite a few minor setbacks including illness and adverse weather conditions, Simon and Alison eventually made it to the summit of Mount Katahdin on Thursday 17th August. On their return to the UK, they are due to meet with staff and beneficiaries of the charity at Walking With The Wounded's Manchester office located on Canada Street, home to the Veterans' Village.
They are hoping to raise a total of £5,000 for the military charity Walking With The Wounded which supports physically, mentally and socially wounded ex-servicemen and women back into independence by assisting them into sustainable employment and helping them to reintegrate back into society. Simon and Alison raised £1,200 ahead of their journey by organising a Northern Soul and Motown music event, and they have since raised another £3,100 whilst in America. They are also hoping to hold a final fundraiser on their return. As a result of their extraordinary fundraising efforts, they have supported 6 veterans through our mental health support programme, Head Start.
Gary Lamb, North West Operations Manager for WWTW, has said: "We look forward to meeting Simon and Alison on their return and are exceptionally grateful for their support."
Follow Simon and Alison's journey on social media:
Facebook: @lemsipandrictic
Instagram: @lemsipandrictic
Support Simon and Alison via their Just Giving page: https://www.justgiving.com/fundraising/SimonandAlison
For more information:
Contact WWTW Press Office on 01263 863 901 or email Willa Greenock (willa@wwtw.org.uk) or Kate Sylvester (kate.sylvester@wwtw.org.uk).
About Walking With The Wounded
Established in 2010, Walking With The Wounded provides vulnerable veterans' independence through employment.
WWTW recognises the inherent skills of our armed service personnel and wants to compliment these qualities, as well as provide support to transfer their skills into the civilian workplace.  We offer assistance through our programmes to those vulnerable veterans who have been physically, mentally or socially disadvantaged by their service and assist them in gaining independence through new long term careers outside of the military.  This includes providing support to homeless veterans and veterans in the Criminal Justice System, areas which are too often ignored.
The outcome? Sustainable employment and independence for themselves and their families.
Find out more at www.wwtw.org.uk