231 projects to improve Veterans' mental health and wellbeing have been successfully run throughout the past two years, reaching over 6000 beneficiaries across the UK. The Positive Pathways Programme awarded grants of £35,000 and £70,000 to projects developed by and for veterans that focus on improving veterans' mental health and wellbeing by getting veterans out and active.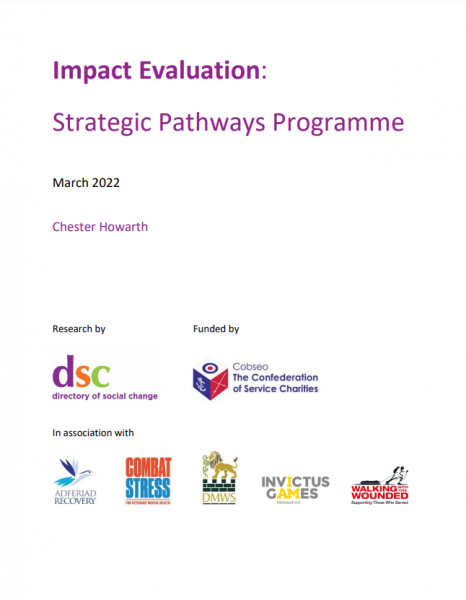 The funding was available as part of the Veterans' Mental Health and Wellbeing Fund, and was administered by the Armed Forces Covenant Fund Trust. Cobseo worked as a Strategic Partner alongside Defence Medical Welfare Services, Walking with the Wounded, the Invictus Games Foundation, and Hafel – now merged with Adferiard – to provide dedicated strategic support to organisations applying for funding, and to those who had successful bids to ensure that the best possible programmes and support were provided for Veterans. Over 60% of the grants were awarded to Cobseo Members, with Cobseo directly offering strategic support 70 projects providing mental health and wellbeing activities and support under the key headings of sports, arts and culture, getting outside, and heritage.
Research conducted by the Directory of Social Change looking into the impact of the Strategic Pathways Project found that over two-thirds of the respondents (70.6%) perceived their professional ability to have improved following their engagement with the Strategic Partners, which is a great demonstration of the level of support provided. Over three-quarters (78.4%) of the respondents perceived their relationships with other organisations to have improved following their engagement with the Strategic Partners, which further demonstrates the power of bringing those working to improve Veterans' mental health and wellbeing across the UK together to continue to collaborate and cooperate to provide the best possible support to those Veterans in need of additional support. This is further supported by the finding that the overwhelming majority (84.3%) of the respondents agreed or strongly agreed that the Strategic Partners have provided the tools to improve future projects, which builds an important evidence base to continue to provide such support for similar projects going forward.