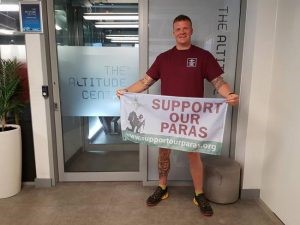 In June, Colchester based 3 PARA Cpl Antony 'Herbie' Hyde will be taking on the Amazon rainforest in a bid to raise £10,000 for his regimental charity Support our Paras.
Cpl Hyde has signed up to take part in the Jungle Ultra Marathon, which will see him travel 230km in just 7 days. The course in the Manu National Park, deep in the Amazon rainforest, Peru, runs from the Andes mountains to the Madre di Dios river, with temperatures reaching 30 degrees during the day and then dropping to 10 degrees at night.
Race participants must be self-sufficient, which means Herbie will be responsible for carrying his entire kit, including food (a minimum of 2,000 calories a day), safety equipment and a minimum of 2.5 litres of water which he can refill at checkpoints along the way.
Cpl Hyde has trained for 6 months to prepare for the event. He says, "This is a massive achievement and goal for me,  but most importantly I am doing this to raise as much money as possible for this great Charity, Support Our Paras. "
Herbie has chosen to raise an ambitious target of £10,000 and is already almost half way there! More at https://mydonate.bt.com/fundraisers/antonyhyde1