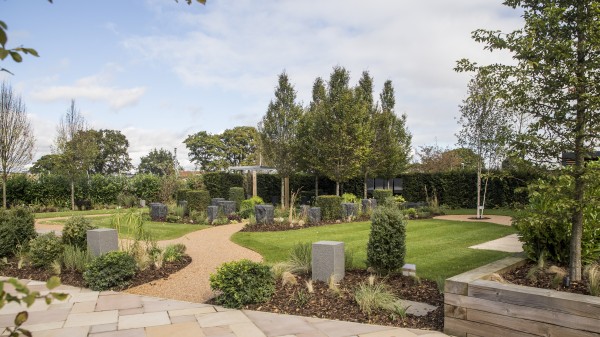 A growing partnership between Help for Heroes and Essex Wildlife Trust has this week broken new ground.
The military charity and conservation charity have been working together for several years. Over the last six months a new project has seen Help for Heroes veterans, their families and volunteers coppicing hazels from Essex Wildlife Trust land. They have then been taught the new skill of weaving hazel hurdle fences which are being installed into the 'Hope on the Horizon' garden at Colchester Recovery Centre on Wednesday.
Steve Schollar, Head of Recovery East and Midlands, said: "This project has proved to be an effective recovery activity. It has enabled our veterans to get out in the fresh air with those who may be experiencing similar issues and has taught them a new skill which hopefully will boost confidence. Several veterans have also reported that weaving the hazel hurdle fences has helped to reduce anxiety as they focus on the task in hand".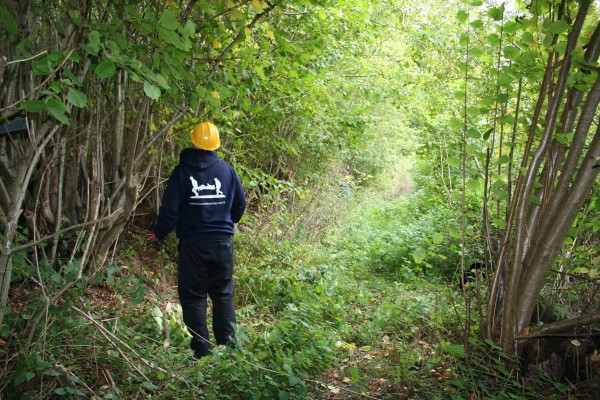 Help for Heroes aims to inspire, enable and support those who are wounded, injured or sick while serving our country; encouraging them to lead active, independent and fulfilling lives. By focusing on the five key areas of Medical, Mind, Body, Spirit and Family specialist teams at Colchester Recovery Centre create the conditions for those who put their life on the line to have a second chance at life. Their award-winning garden is a haven for veterans and their families; it is extremely well used with people taking Pilates classes, practicing mindfulness or having family picnics amongst the flowers.
Andrew Impey, CEO of Essex Wildlife Trust, said: "This is a partnership that we are immensely proud about; it has been a privilege to welcome Help for Heroes veterans and their families. Time spent outside with nature is beneficial to people's health and well-being and this project is testament to that. The veterans have helped us carry out important habitat management, as hazel coppicing is a crucial part of keeping ancient woodland and its wildlife healthy and diverse. Now we look forward to seeing what wildlife joins the veterans in enjoying the beautiful garden."
Steve Schollar finished by saying: "It is hoped that the partnership project will not only Help our Heroes but help our local wildlife by encouraging it into Colchester Recovery Centre".
Veteran Brendan Gordon is from Colchester. In 2010 he suffered a violent stroke which took away the use of his right arm, resulting in a medical discharge in 2012. Brendan saw active tours of Kosovo and Northern Ireland as a medic. His commitment to his physiotherapy has seen him regain feeling in his right leg and shoulder, but his arm remains clenched and lifeless. After trying to take his own life Brendan was introduced to Help for Heroes. He then took part in a programme of health and physical wellbeing activities, such as yoga, at Colchester Recovery Centre. The team also introduced him to a local physiotherapist trialling innovative mobility technology. Known as the SaeboGlove, the revolutionary glove extends the tendons and retrains the brain on movement.
Brendan Gordon said:
"It's just so quiet and so peaceful here in the garden; it allows you to get your thoughts together. Even if you sit here for just half an hour you can walk in with a bad mood but come out smiling.  I'm looking forward to the garden being finished. It will make it even more private and the hazel hurdle fences are much softer than the metal military fence surrounding the recovery centre. It looks better and more homely ".
-ENDS-
ABOUT HELP FOR HEROES
Help for Heroes offers comprehensive support to those who have suffered life-changing injuries and illnesses while serving our country. This support is provided through grants direct to our Heroes and their families, grants to other charities and through four Recovery Centres across the UK. A recent study launched in January 2016 by King's College London and Help for Heroes estimated that, of the 750,000 men and women who served as Regulars between 1991 and 2014, at least 66,000 might need long term support. www.helpforheroes.org.uk
ABOUT ESSEX WILDLIFE TRUST
Essex Wildlife Trust is the county's leading conservation charity. It has more than 37,000 members, manages and protects over 8,400 acres of land on 87 nature reserves and two nature parks and runs 11 visitor centres. The aim of Essex Wildlife Trust is to Protect Wildlife for the Future and for the People of Essex. It is supported financially by members, local businesses and grant-making organisations. It is one of the largest of the 47 county wildlife trusts that work together throughout the British Isles as The Wildlife Trusts. www.essexwt.org.uk