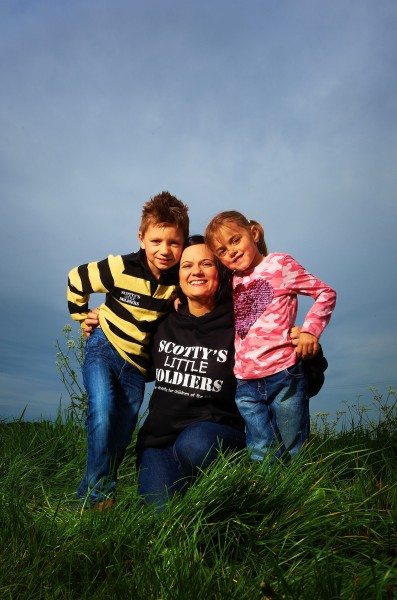 The Prime Minister has recognised Nikki Scott, from King's Lynn, Norfolk, for supporting bereaved British Armed Forces children.
Nikki is the founder f 'Scotty's Little Soldiers', the UK's leading charity for bereaved British Forces children. Nikki set up the charity after her husband and father to her two children, Corporal Lee Scott, died in Afghanistan in 2009. The charity reaches more than 360 children of Army, Navy and RAF personnel with its 'smiles', 'support' and 'strides' programmes, providing fun activities, counselling and personal development grants.
Nikki has grown the charity and has created an annual 'Scotty's Day' on 10th July, the anniversary of Lee's death, to raise awareness and funds. TRH Duke and Duchess of Sussex chose the charity as one of the causes people could donate towards to mark their wedding.
Nikki is the latest recipient of the Points of Light award, which recognises outstanding individuals who are making a change in their community and inspiring others. Each day, someone, somewhere in the country is selected to receive the award to celebrate their remarkable achievements. Nikki's award from the Prime Minister coincides with Armed Forces Day, Saturday 30 June.
In a personal letter to Nikki, Prime Minister Theresa May said:
"The positive impact 'Scotty's Little Soldiers' is having on the lives of bereaved British Forces children is a wonderful tribute to the memory of your husband Corporal Lee Scott. The support you are providing is giving families a lift when they need it most, helping children who have lost a parent to smile again."
Sir Henry Bellingham, MP for North West Norfolk, said:
"I am overjoyed and delighted that Nikki Scott is being recognised by the Prime Minister in this way.
"Nikki Scott is a truly remarkable person who really has transformed the lives of hundreds of young children of Service Personnel.  For quite a long time she has been a heroine in West Norfolk, but she is now admired across the whole country.
"She is a huge credit to King's Lynn and West Norfolk, and I am sure this marvellous recognition will help 'Scotty's Little Soldiers' go from strength to strength."
Nikki said:
"Winning this award came as a huge surprise and I'm so incredibly honoured to have been chosen.
"I set up Scotty's Little Soldiers in 2010 after I lost my husband Lee in Afghanistan. Since then the charity has continued to grow, and we now support over 300 bereaved Forces children across the UK.
"After I lost Lee, I saw first-hand how it impacted my two young children. There was no support for them, so I set up Scotty's initially to help children who had lost a parent in the British Armed Forces smile again. I soon realised there was much more which needed to be done for these children, who at such a young age had experienced so much. Scotty's now provides members and families an integral support network where they can meet and talk with other families going through the same thing.
"I'm extremely passionate about what I do and the children we help, and I hope that being recognised for this award will help reach other bereaved Forces children who may not be aware that Scotty's is there for them."
Nikki is the 942nd winner of the Points of Light award, which has been developed in partnership with the hugely successful Points of Light programme in the USA. Over 6,000 Points of Light have been awarded in the USA, and former Presidents have publicly supported the partnership with Points of Light UK. There is a similar cross-party approach to the UK programme and MPs from different parties often present their constituents with their Points of Light awards.
Regardless of whether it's a doctor restoring local monuments in her free time, a father teaching young people life skills, or a local musician giving a voice to lonely people, the Points of Light award honours shining examples of voluntary service across the UK.
Notes to Editors
The Points of Light awards recognise outstanding individual volunteers, people who are making a change in their community and inspiring others.
The Prime Minister makes daily announcements of the winners to celebrate, encourage and promote volunteering and the value that it brings to the country.
If people know someone who could be a Point of Light they should write to the Prime Minister at 10 Downing Street.
Website: www.pointsoflight.gov.uk