They waltzed, they foxtrotted and they quickstepped their way to a whopping total of more than £21,000 for Armed Forces charity Poppyscotland. And now the charity's much-loved 'Come Dancing' event is set to return in 2019 even better than before.
Based on the same format as the hit BBC show, the inaugural 'Come Dancing with Poppyscotland' event featured eight individuals with absolutely no prior experience in dance paired up with eight highly-skilled dancers. The competitors gathered in front of an expectant crowd at the Drumossie Hotel and danced their way to an incredible fundraising total of £21,000.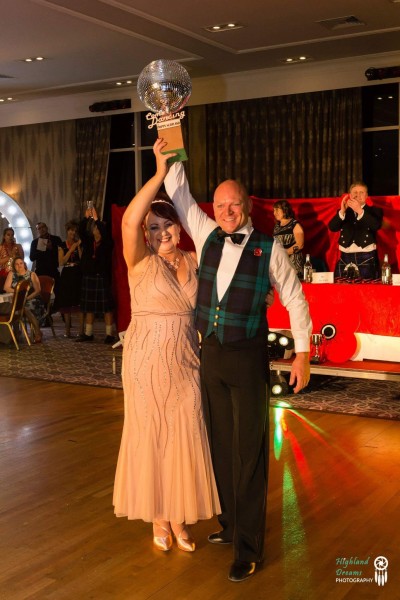 Now, with only a month until applications close, Poppyscotland is on the lookout for enthusiastic new dancers to take part in next year's event. The charity's North of Scotland Regional Fundraiser, Frances Beveridge, said: "I am so pleased that Come Dancing with Poppyscotland 2018 was a huge success and raised more than £21,000. I am grateful to the event sponsors, participants and local businesses. Their help and support throughout helped to make it the success it was.
"Best of all, though, I am happy to announce that Come Dancing with Poppyscotland is back for 2019 on Saturday 9th March at the Macdonald Drumossie Hotel.  Applications are open and the closing date is Tuesday 31st July, so don't delay – apply today!"
Frances is particularly keen to get male dancers signed up, and one such novice dancer, called Craig, revealed what a great experience the event proved to be in 2018. He said: "I was nervous about applying as this was all new to me, but I can honestly say I am happy I did. Everyone was so helpful and supportive and I would recommend anyone who is thinking of doing it to go for it. Go on guys, Come Dancing with Poppyscotland 2019 needs you!"
This year's winning couple was Captain Paul Naismith and Ruth Hirst, and Capt Naismith also won the top fundraiser prize, raising just under £4,000.
Lindsey Randall, General Manager at the Macdonald Drumossie Hotel, said: "The Macdonald Drumossie Hotel and its owners Macdonald Hotels & Resorts are delighted to support this exciting event for the second time and in aid of a very worthwhile cause. The evening will be a fun way of raising funds for the vital work Poppyscotland does within the Armed Forces community and we look forward to welcoming dancers and guests for what promises to be a night to remember."
There are a number of other local businesses sponsoring the event, including Toe2Toe Dance, which provided 12 private lessons for each of the eight couples and is sponsoring the Best Dancing Couple Trophy; North Highland Radio; Philip Coe at PJC Entertainment; and Highland Graphics.
To sign up for Come Dancing with Poppyscotland 2019, please contact Frances on 01463 701 764, or at f.beveridge@poppyscotland.org.uk, or pop into the Poppyscotland Welfare Centre, on Strothers Lane. Tickets are priced at £29 (the same as this year), which includes a welcome drink and light buffet in the interval. Applications close on Tuesday 31st July with training starting in September. Frances would also like to hear from any businesses that would be willing to support next year's event.
Notes to editors:
For further information or to request an interview, please contact David A. Findlay, PR Manager at Poppyscotland, on 0131 550 1580 or 079797 35611, or email at d.findlay@poppyscotland.org.uk.
Poppyscotland provides life-changing support to the Armed Forces community. Money raised from the Scottish Poppy Appeal and Poppyscotland's year-round fundraising enables them to deliver support to members of the Armed Forces community in Scotland by providing tailored funding and assistance. The charity also funds services in advice, employment, housing, mental health, mobility and respite. Please note that we are known as "Poppyscotland", and not "PoppyScotland" or "Poppy Scotland". For more information, please visit us at: www.poppyscotland.org.uk
The Macdonald Drumossie Hotel is one of the leading conference and function venues in the Highlands and combines heritage, luxury and convenience all in one outstanding venue. It is situated in nine acres of stunning parkland – only ten minutes from the city centre and a few minutes from the A9 – and lies within easy close reach of several of the finest links golf courses in the world. In addition, the hotel is perfectly positioned for the rich, local heritage of Culloden, Loch Ness and the Cairngorms, making it perfect for a relaxing break or a romantic getaway. For further information, please contact Brett Jackson or Lesley Eaton, Granite PR, at brettjackson@granitepr.co.uk, or lesleyeaton@granitepr.co.uk, or call 07808 727 167 or 07595 200 662.