Calling all schools! Leading Armed Forces charity Poppyscotland has joined forces with STV News to launch its eagerly-awaited Learning Competition for 2018 which calls on P4-S3 pupils to produce their own news story by imagining how they would report the end of the First World War if it happened today.
To mark the centenary of the end of the First World War, Poppyscotland Learning presents its "BREAKING NEWS: WAR IS OVER!" 2018 Learning Competition. Pupils are encouraged to think creatively around modern-day reporting techniques, which could include recording a video, writing a blog piece or putting together a series of social media posts.
STV is offering an exclusive prize for the winners of each category – a special visit to its studios, where winners can share their report with news anchors and learn professional tips on how to make and present the news.
Poppyscotland Learning and Outreach Manager Isla Campbell Lupton said: "This year, Poppyscotland's learning competition is a real mix of commemoration and remembrance with a chance to bring a fresh perspective in this centenary year. 'BREAKING NEWS: WAR IS OVER!' supports three of the 'big questions' which underpin Poppyscotland's comprehensive Learning programme: 'Why do conflicts arise? How do they develop? And how are they resolved?' Thinking about how news has changed over the past 100 years works across the curriculum and we hope schools will take up the challenge, especially given the special prize on offer!"
A spokesperson for STV News said: "We are delighted to be involved with this year's Learning Competition from Poppyscotland. It's a great opportunity for pupils to try their hand at telling a compelling story using a range of reporting techniques and platforms. We're looking forward to welcoming the winners to what we hope will be an exciting visit behind the scenes at STV News. Good luck to everyone taking part!"
Entries to the 'BREAKING NEWS: WAR IS OVER!' 2018 Learning Competition will be judged across two categories: Primary (P4-P7) and Secondary (S1-S3). For more information on the competition, which closes on Friday 7th December, please visit www.poppyscotland.org.uk/learning/competition, or telephone Theresa Merricks on 0141 338 6580. Among the judges will be Poppyscotland Chief Executive Mark Bibbey and a senior News Editor from STV. Winners will be announced in May 2019.
Last year's Poppyscotland Learning competition asked pupils to design a 'Poppy Place and Space' area for remembrance and reflection, and was won by Bun-sgoil Stafainn (Staffin Primary School) on the Isle of Skye. Following their win, and thanks to the subsequent gardening efforts of the school and wider community, Staffin's beautifully-renovated memorial garden was unveiled at a grand opening in early-September.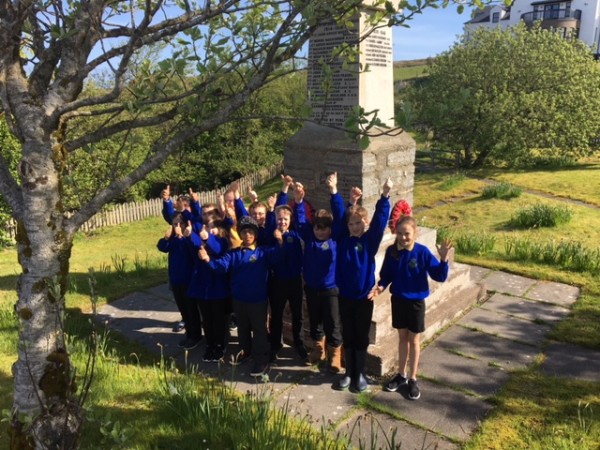 Notes to editors
• For further information please contact David A. Findlay, PR Manager at Poppyscotland, on 079797 35611, or email at d.findlay@poppyscotland.org.uk.
• The aim of Poppyscotland Learning is to provide a comprehensive learning experience for nurseries, schools, further education institutions and other youth organisations. The material highlights the importance of remembrance, veterans and the poppy. For more information, please click here.
• Poppyscotland provides life-changing support to the Armed Forces community. Money raised from the Scottish Poppy Appeal and Poppyscotland's year-round fundraising enables them to deliver support to members of the Armed Forces community in Scotland by providing tailored funding and assistance. The charity also funds services in advice, employment, housing, mental health, mobility and respite.
Please note that we are known as "Poppyscotland", and not "PoppyScotland" or "Poppy Scotland". For more information, please visit us at: www.poppyscotland.org.uk.