Poppyscotland is delighted to today announce the winners of its popular Learning Competition, this year delivered in partnership with STV News.
The competition, entitled 'BREAKING NEWS: WAR IS OVER!' and open to P4-S3 pupils, asked pupils to present how they would report the end of the First World War if it happened in the modern day, and, after five furious weeks of voting which saw more than 4,300 votes cast, two winners have been crowned.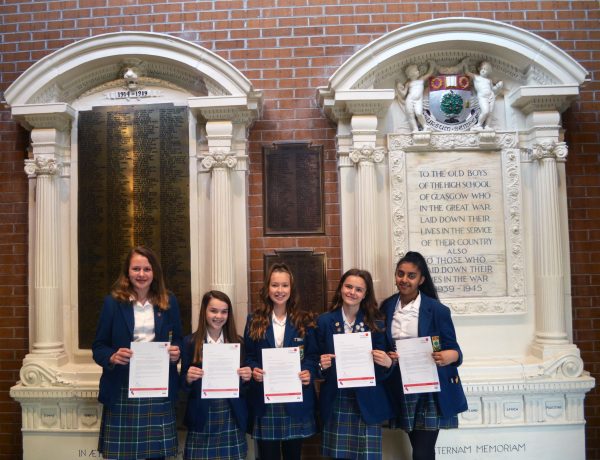 In the primary school category (P4-P7) the winners were Primary 7 pupils Esme Forsyth and Eva Combe from Newtonhill School, Aberdeenshire. [Their entry can be viewed here.] Meanwhile, in the secondary school category (S1-S3), the winners were S2 pupils Amy Ashton, Elisha Bali, Kirstie Souter, Maria Murio-Fernandez and Sophie Kemsley from The High School of Glasgow. [Their entry can be viewed here.]
Each winning group will now receive an exclusive trip to STV News' studios, where they will be able to share their report with STV News anchors and go behind the scenes of a news broadcast, as well as learning professional tips on how to make and present the news. The other four shortlisted entries – Laxdale Primary School, St Aloysius' Junior School, Meldrum Academy and (another from) The High School of Glasgow – will each receive a £50 Amazon voucher.
Eva, from Newtonhill School, said:
"I really enjoyed working on the project and learning about the War. It was so great to find out that we had won; thanks to everyone who voted!"
And Esme added:
"It was an amazing opportunity to be picked and we learned so much about World War One. My heart goes out to all the soldiers who fought for us. Thank you."
Laura Morrice, from Newtonhill, said:
"We are all delighted and tremendously proud of Esme and Eva. The girls conducted their own research, script writing and recording, and had so many ideas they were keen to try out. The Poppyscotland competition gave the girls a real focus for their World War One research and they worked incredibly hard to find out as much as possible about that historic day. The visit to the STV studios is an amazing opportunity to see behind the scenes at a real news studio. We know Esme and Eva are going to love it!"
Amy, Elisha, Kirstie, Maria and Sophie, from The High School of Glasgow, had this to say about their success:
"We're so excited to have won the competition. We learned loads and were really happy to be involved."
Their teacher, Gemma Lindsay, added:
"I am extremely proud of the pupils for engaging so creatively with the Poppyscotland Learning Competition. The enthusiasm of both Poppyscotland and the pupils has been really inspiring and helps to continue to raise awareness of the crucial work that Poppyscotland does with veterans and their families."
Gordon Michie, the Head of Fundraising at Poppyscotland, said:
"The competition was a real mix of commemoration and remembrance with a chance to bring a fresh perspective in what was the centenary year. 'BREAKING NEWS: WAR IS OVER!' encouraged pupils to think creatively around modern-day reporting techniques, which could include recording a video, writing a blog piece or putting together a series of social media posts. Thinking about how news has changed over the past 100 years works across the curriculum and we were delighted that so many schools chose to take up the challenge."
A spokesperson for STV News said:
"We were delighted to be involved with this year's Learning Competition from Poppyscotland. It was a great opportunity for pupils to try their hand at telling a compelling story using a range of reporting techniques and platforms. We're looking forward to welcoming the winners to what we hope will be an exciting visit behind the scenes at STV News."

"We would like to thank our judging panel who met to select the shortlist of six: Nicki McCourt, Editor, Originations at STV News; Caroline Lindsay, Features Writer and Menu Magazine Editor at The Courier; Claire Armstrong, CEO at The Royal British Legion Scotland; and Felicity Clifford, Broadcast Journalist at Wave FM."
If you would like further information on Poppyscotland's ever-expanding Learning programme, please visit http://learning.poppyscotland.org.uk/.
Poppyscotland provides life-changing support to the Armed Forces community. Money raised from the Scottish Poppy Appeal and Poppyscotland's year-round fundraising enables them to deliver support to members of the Armed Forces community in Scotland by providing tailored funding and assistance. The charity also funds services in advice, employment, housing, mental health, mobility and respite.
Notes to Editors
For further information please contact David A. Findlay, PR Manager at Poppyscotland, on 079797 35611, or email at d.findlay@poppyscotland.org.uk.
The winners in each category are:
Primary school category (P4-P7):
Esme Forsyth and Eva Combe; Primary 7 at Newtonhill School
Address: St Michael's Road, Newtonhill, Stonehaven, Aberdeenshire
https://youtu.be/Lm2lwPoruus
Secondary school category (S1-S3):
Amy Ashton, Elisha Bali, Kirstie Souter, Maria Murio-Fernandez and Sophie Kemsley; Senior 2 at The High School of Glasgow
https://youtu.be/6Q8-nfH2YWY
The aim of Poppyscotland Learning is to provide a comprehensive learning experience for nurseries, schools, further education institutions and other youth organisations. The material highlights the importance of remembrance, veterans and the poppy. For more information, please visit http://learning.poppyscotland.org.uk/.