A woman from Hay-on-Wye took on a 20 mile off-road running challenge in the Brecon Beacons National Park, following the cancellation of what would have been her 16th consecutive participation in the Great North Run, raising money for military charity, Blind Veterans UK.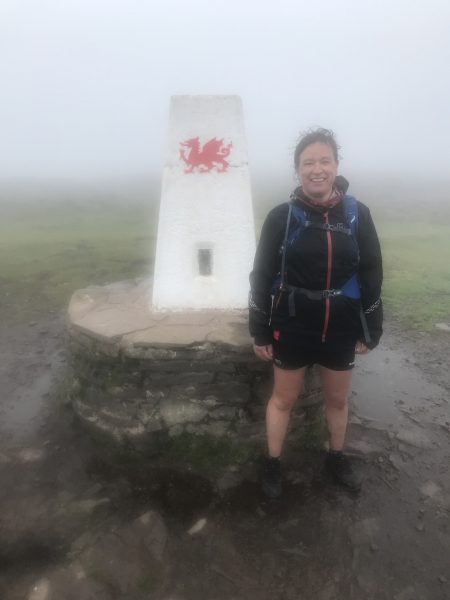 Rachel Jones first became interested in the Great North Run as an 11-year-old hearing about the launch of the first ever event. She says:
"I've had an interest since it was first launched and years later following the complicated birth of my son I wanted to take part and give back to the charity that had supported me during that time."
Rachel first participated in 2005 and subsequently completed every race since then for 15 consecutive years. She was signed up to take part in 2020 but the event was cancelled due to the Covid-19 pandemic. Rachel says:
"It's an amazing event because of the atmosphere and the crowd that lines the route to cheer you on.

"I was gutted when I found out that it was cancelled. So I got together with my friend Ange and we decided to take on a 20 mile off road running challenge in the Black Mountains at the eastern end of the Brecon Beacons National Park."
Rachel joined Blind Veterans UK as Health & Safety Manager late last year and decided to raise money for the charity after seeing first-hand the life changing impact that it was having on blind veterans' lives. Rachel says: "It really is an amazing organisation. I've met some of the blind veterans who we support and seen how important the work is that we're doing to keep them safe and independent in their own homes."
The 20 mile challenge took Rachel and Ange six hours to complete and saw them gain 3,300 feet in elevation. Rachel raised £495, smashing her £300 target. She says:
"It was a big challenge and I was exhausted by the end of it. But it was so worth it knowing all the while that the money I raised would be going to such a good cause. It was also really special to get to the top of the hills that had been restricted during lockdown."
Blind Veterans UK has adapted its service to support its 5,000 beneficiaries, 90% of whom are over 70 and at an increased risk from Covid-19. The National Support Service will help blind veterans through this period of social isolation.
Nicky Shaw, Blind Veterans UK Director of Operations said:
"Living in isolation, blind veterans need our help right now with daily tasks, such as the shopping, and constant emotional support through this difficult time. So we are temporarily changing our service and mobilising our staff to provide practical, essential support to help the most vulnerable.

"There is so much that we can and must do to support blind veterans to help them maintain physical and emotional wellbeing, and to feel safe, reassured and cared for during this crisis."
You can keep updated on Blind Veterans UK's response to Covid-19 at blindveterans.org.uk/coronavirus where you can also find out more about supporting the charity to make this new service possible.