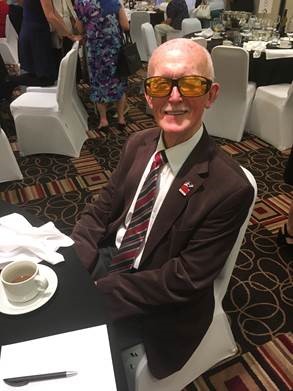 This National Eye Health Week (18 – 24 September) a Walton-le-Dale Armed Forces veteran who has received vital support from national charity Blind Veterans UK is urging other battling sight loss to come forward.
David Hughes, 85, said: "When I lost my sight it felt like there were a lot of things I couldn't do anymore. But since getting in touch with Blind Veterans UK I've regained my lost confidence and I feel a lot more positive about the future."
David joined the Army as a boy soldier in 1946 and trained as an apprentice tradesman with the Royal Signals. He undertook vehicle maintenance training and was posted to Catterick, where he was tasked with ensuring the upkeep of Army vehicles. David's squadron was then transferred to Harrogate, where he joined adult Service at the age of 17 and stayed until discharge in 1950.
David says: "I joined up at the age of just 14 and it was a steep learning curve, but I still value the years I spent in the Army and appreciate the comradeship of that time in my life."
David lost his sight over 50 years later, when an operation to correct double vision resulted in an eye bleed, causing blindness in his left eye. David now suffers from glaucoma and macular degeneration in his right eye, and wears UV shields to help protect his remaining vision.
David was signposted to the support of Blind Veterans UK when he met a fellow blind veteran who the charity supports at a local community group. David joined Blind Veterans UK early last year and has since attended an induction week at one of the charity's rehabilitation centres to help him adjust to his sight loss.
David said: "The camaraderie of meeting other blind veterans took me right back to my time in the Army. I also had the chance to meet with rehabilitation officers who gave me some excellent advice on equipment that could help me. I was given special IT software too, which means that I can carry on using my computer."
During his retirement David studied for a degree in politics and history and began researching the social history of his local area. However, as David's sight began to fail, it became increasingly difficult for him to use his computer. After hearing about David's struggle Blind Veterans UK gave David a screen magnifier, which allows him to enlarge documents on his computer to a comfortable size and continue pursuing his interest.
David says: "It's been brilliant, when I lost my sight I thought I'd have to give up using my computer because it was too much of a struggle. Thanks to the help of Blind Veterans UK I've got so much more confidence and I've set myself the task of publishing some of the work I've been doing. This National Eye Health Week I'd really encourage anyone battling sight loss to come forward and seek support. You won't regret it."
Blind Veterans UK is the national charity for blind and vision-impaired ex-Service men and women, providing vital practical and emotional support to help veterans discover life beyond sight loss.
The charity estimates that there are currently more than 1000 blind veterans in Lancashire that would be eligible to access its specialist support, most of whom are not currently aware of it.
If you, or someone you know, served in the Armed Forces or did National Service and is now battling severe sight loss, find out how Blind Veterans UK could help by calling 0800 389 7979 or visiting blindveterans.org.uk
ENDS
For all media enquiries please contact: Ruth Moore, Communications and Marketing Assistant, Blind Veterans UK, 12 – 14 Harcourt Street, London W1H 4HD, E: ruth.moore@blindveterans.org.uk, T: 020 7616 7955
Notes to Editor
Blind Veterans UK
Blind Veterans UK (formerly St Dunstan's) is a national charity that believes that no-one who has served our country should have to battle blindness alone. It provides blind and vision impaired ex-Service men and women with lifelong support including welfare support, rehabilitation, training, residential and respite care.
The charity needs £100 million over 5 years to provide lifelong support to blind ex-Service men and women. Find out more at: www.blindveterans.org.uk, and follow us on Facebook at: facebook.com/blindveteransuk and on Twitter at: twitter.com/blindveterans.