Six wounded veterans to walk 1,000 miles across America this summer to raise awareness of mental health
On Wednesday 11th April 2018 our latest expedition, the Walk Of America 2018, was successfully launched by Expedition Patron, Prince Harry.
During his speech, Prince Harry said: "Our nations, and in particular our Armed Forces, share a special bond. We have learned a great deal from each other about caring for our veterans, but together and separately we continue to face challenges.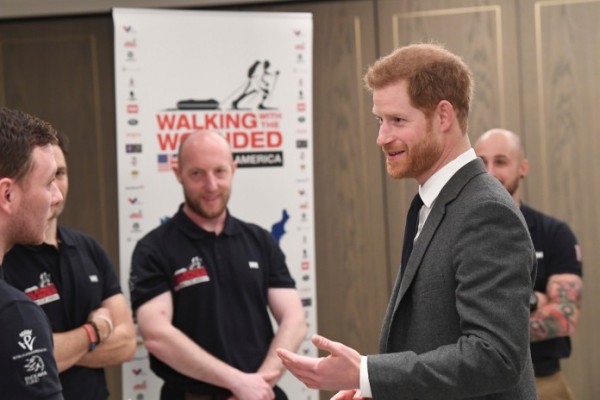 "I have always felt that the experiences we share in conflict provide a stronger support system in recovery – this is especially true of our Trans-Atlantic partnership. There is much more that we can learn from one another and in doing so, we hope to improve support now and into the future.
"The expedition we are launching today, Walking With The Wounded's 2018 Walk of America, reinforces that bond."
Starting in LA on 2nd June and finishing in New York on 6th September, the Walk Of America expedition team will walk by some of America's most iconic cities, landmarks and communities in the US who have done so much to support those who have served. They will walk through Texas, the heart of the US military family, through Colorado, to Kansas City and Chicago, and then down from Nashville to the eastern seaboard, before finally finishing on the 6th September in New York City.
During the launch, Prince Harry met the three British team members: Kev Carr, Kemsley Whittlesea and Jonny Burns. He also met US team member Adele Loar, who flew over from the USA for the event specifically. She will be joining the walk for the duration alongside her US teammates Frankie Perez and Larry Hinkle.
Follow this link to the full story.