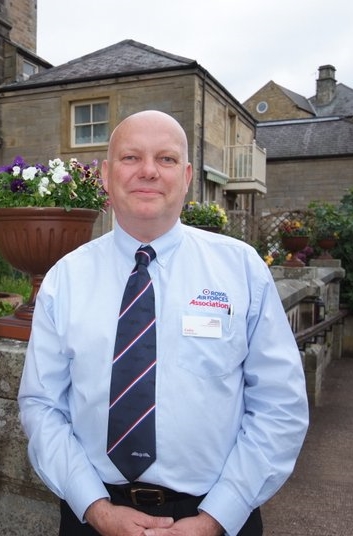 RAF Association Hotel Manager Colin Lee was shortlisted for a national Leadership Award from the 3rd Sector Care Awards. The award celebrates someone who demonstrates an outstanding contribution to care and service excellence.
Mark Shields, RAF Association Head of Care and Housing Services nominated Colin for the award. After seeing the level of support and team spirit at the Association's Wings Breaks hotel Rothbury House, Northumberland he said of the nomination: "Colin was nominated for the Award because of his total commitment to care and outstanding leadership that has significantly contributed to excellence within a culture that puts people and quality first. The enthusiasm he creates for the staff has helped the Royal Air Force Association retain a large number of care staff at the hotel. Colin has created a fun and enjoyable place for guests to be. He ensures their needs are met at the first point of call and family and friends are completely put at ease when they visit their relatives or come for a well-earned break too."
Colin has been Hotel Manager at Rothbury House since 2013. He believes a good manager leads from the front, taking an interest in the guests, employees and even doing the dishes when it's required. When speaking about his nomination, Colin modestly said: "I look at the nomination as a group effort and I'm standing on other people's shoulders. The heart of Rothbury House is the community and I'm here to ensure everyone else can do their job properly. If it wasn't for my team I would never have been nominated."
Although Colin didn't win the award on the night, he did incredibly well to be shortlisted, he said of the awards ceremony: "I felt very privileged to be going to the ceremony and I recognise that I'm not acting alone in my job. The training and support I've had from the RAF Association has helped me to hone my skills and polish my craft."
The Association is proud that Colin was shortlisted for such a prestigious award. To find out more about Rothbury House or one of the Association's other Wings Breaks hotels visit rafa.org.uk/wingsbreaks.
../ends
Notes to editors:
Contacts for media:
Lauren Park, PR and Communications Team, RAF Association, Leicester – 0116 268 8755 or 07867 591057.
About the Royal Air Forces Association
The Royal Air Forces Association (or RAF Association) is a membership organisation and registered charity that provides welfare support to the RAF family.
The Association recognises that RAF personnel and their immediate families dedicate their lives to their country, and we believe that such a sacrifice should not result in suffering, poverty or loneliness.
Whether it's an injured airman or woman fighting to get back on their feet, a young child missing their parent away on overseas operations, or a World War II veteran needing a shoulder to lean on, we are here to help all generations of RAF personnel and their families.  We also support serving families if they need us. We give practical, emotional and financial support.
Our membership of more than 65,500 includes serving RAF personnel, veterans and members of the public who want to show their support for the work that we do.
Across the UK in 2016 the Association carried out 13,800 home visits, helped tell thousands of bedtime stories to children whose parents were away on operations, and gave tailored holidays to 2,500 RAF veterans, widows and family at our Wings Breaks hotels. Our support ranges from simply providing conversation and friendship to preparing and submitting application forms for financial assistance.
Charity numbers: 226686 (England and Wales), SCO37673 (Scotland).