Dozens of well-wishers turned out to help a Jamaican-born RAF veteran celebrate his 100th birthday at the Salford care home for ex-servicemen and women where he lives.
Oswald Dixon celebrated his milestone with Broughton House residents, staff, carers, volunteers and trustees, along with RAF representatives, at a Caribbean-themed party held in his honour.
The Manchester Inspirational Voices gospel choir sang some of his favourite hymns, including Amazing Grace and The Old Rugged Cross, and a group of three and four-year-olds from the nearby Kids Planet day nursery sang happy birthday and presented sensory birthday cards. Sainsbury's donated money for food and drinks.
Oswald, who is blind and has no known relatives, also received birthday greetings from the Queen, work and pensions secretary Amber Rudd and Jamaican High Commissioner Seth George Ramocan and his staff.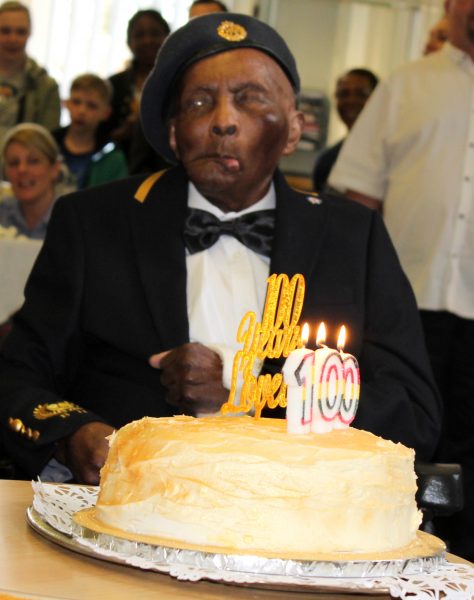 Oswald, who is the oldest resident of Broughton House, joined the RAF in Kingston, Jamaica, in November 1944 as a flight mechanic and moved to Britain before the Second World War ended.
He rose to become a leading aircraftman and remained in the service teaching new recruits until he retired.
He was living alone in Salford until 2015, when he moved to Broughton House. Due to illness and deteriorating sight, he was no longer able to live on his own. Oswald said he enjoyed his special day and appreciated the kindness shown by his well-wishers.
A committed Christian, Oswald said he was proud to reach his milestone and added:
"I've always tried to live life as it should be lived, by doing the right things for other people."
Broughton House chief executive Chris Lindsay said:
"Having served in the Royal Air Force myself as an airman and commissioned officer, I was delighted to see Oswald, a fellow RAF veteran, celebrate his 100th birthday.

"The turnout was brilliant and clearly showed the love and respect Oswald has from residents, staff and trustees of Broughton House.

"We must also thank everyone who helped and contributed towards the celebrations, with a special mention to the Manchester Inspirational Voices gospel choir for making it a most special day to remember for Oswald and everyone at Broughton House."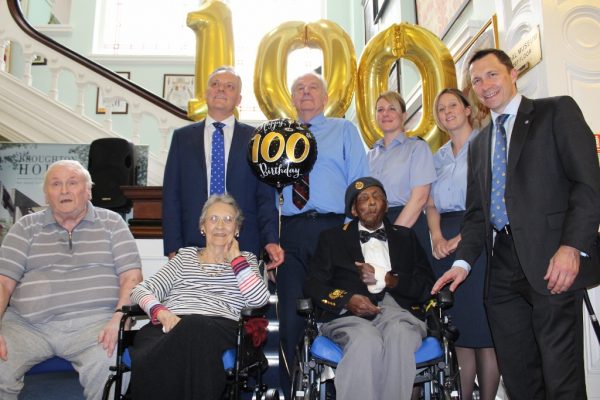 The guests included Mark Quinn, area director of the RAF Benevolent Fund for central and north England and Wales, and Corporal Samantha Sharp and Corporal Zara Cohen from the Armed Forces Careers Office in Manchester.  Among the gifts Mark presented to Oswald was the organisation's centenary pin badge.
The RAF Benevolent Fund, which supports current and former members of the service and their families and helps to pay for RAF veterans staying at Broughton House, is also celebrating its centenary this year.
Mark said:
"It was an absolute privilege and pleasure to meet Oswald and present him with one of our centenary pin badges and mugs."
Notes to editors
Photographs show:
1. Oswald celebrating his 100th birthday with his cake
2. Front row L-R: Broughton House residents Andrew Hewitt and Joan Jones with Oswald Dixon. Back row L-R Broughton House chief executive Chris Lindsay, Broughton House historian Owen Hammond, Corporal Zara Cohen, Corporal Samantha Sharp and Mark Quinn.
For more information contact Rhys Edwards, marketing and fundraising manager at Broughton House, via rhys.edwards@broughtonhouse.com or 0161 740 2737 or 07368 266823.
For more information on Broughton House, visit www.broughtonhouse.com