Eleven-year-old Tia Carter will represent the Royal Air Force and the RAF Benevolent Fund when she  takes part in the Coin Toss Ceremony on Centre Court on Saturday, 14 July.
Tia and the RAF Benevolent Fund were nominated by the Wimbledon Foundation, the official charity of the All England Lawn Tennis Club and the Championships to mark the centenary of the RAF and the longstanding relationship between the Armed Forces and Wimbledon.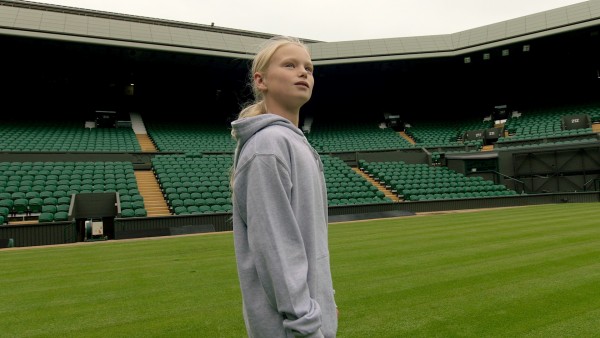 Tia's father Wayne serves in the RAF at RAF Brize Norton, as did her mother Joyce, who passed away suddenly in November last year. The RAF Benevolent Fund's flagship youth support scheme, Airplay, has been a great support to Tia as she comes to terms with the loss of her mother. Airplay is run by the RAF Benevolent Fund at RAF stations around the UK providing youth support to young people aged from eight to 18.
Alison Wyman, Head of Welfare Programmes and Development, said:
"It is really fitting that an RAF child has been chosen to perform the coin toss in the RAF's centenary year. We're really excited for Tia; she deserves a treat given the past year and how devastating it must have been to lose a parent at such a young age."
Tia said: "I'm most looking forward to meeting the players and walking out with them. I've been practising my coin toss twice a day to make sure I can do it."
Helen Parker, Wimbledon Foundation and Community Manager, said:
"The Wimbledon Foundation supports military and emergency service benevolent funds annually through the ticket resale scheme at the Championships in recognition of the valuable role their personnel play as Service Stewards. This year marks important anniversaries for the RAF and The Fire Fighters' Charity and we are delighted are delighted to be able to give Tia and Joshua and the two fantastic charities they have been supported by, this amazing opportunity to take centre stage at the Championships."
Tia and Joshua will enjoy a tour of the Clubhouse and lunch in the Competitors' Restaurant before the match. They will be assisted in their on-court duties by Andrew Jarett, Championships Referee.
To find out more about the RAF Benevolent Fund's Airplay programme, go to www.rafbf.org/how-we-help/serving-raf-community/youth-support/rafbf-airplay/
Watch Tia on her first visit to Wimbledon: https://youtu.be/mJLIT5L3SH8
–
For more information and high res images please contact:
Rebekah Sharrock, PR Officer, RAF Benevolent Fund
E: rebekah.sharrock@rafbf.org.uk | T: 020 7307 3305 | M: 07595 657979
RAF Benevolent Fund:
The Royal Air Force Benevolent Fund is the RAF's leading welfare charity. We exist to support current and former members of the RAF, their partners and dependants, whenever they need us. In 2017 we spent £18.8m supporting more than 55,000 members of the RAF Family.
For more information visit:  www.rafbf.org
Twitter: https://twitter.com/RAFBF