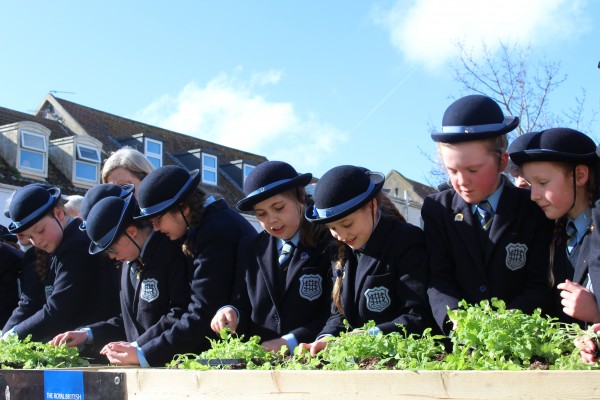 The Jersey branch of The Royal British Legion and local plant supplier, Jersey Plants Direct, invited local schoolchildren and dignitaries – including Jersey's Lieutenant Governor Air Chief Marshal Sir Stephen Dalton and his wife Lady Dalton – to plant their very own poppies and express their thanks for the World War One generation by remembering the fallen in this centenary year.
At an event that took place at the Cenotaph (St Helier Memorial) on Tuesday 13th March, pupils from Helvetia House School were able to plant Flanders poppies donated by Jersey Plants Direct, a local grower, and kick off a year of planned events by the Legion on the island.
Helvetia House School Head Teacher, Lindsey Woodward, said: "Our school is a stone's throw away from the Cenotaph and each year we are actively involved in helping the pupils remember the end of the First World War and, indeed, all wars and conflicts which have occurred since. We feel it is important for the girls at Helvetia to understand past history and some may well have members of their own family who have been involved with the military services and want to understand better than they already do what happened and why. The idea of our girls planting a poppy in memory of others is such a great thing for them to be involved in and one which they will remember for the rest of their lives. We are delighted to have been approached to become involved with such a worthwhile event."
It is hoped the planted poppies will create a lasting legacy to mark the island's contribution to WW1 and a display of thanks and remembrance.
President of the Legion's Jersey branch, Charles Woodrow, said: "100 years on from the end of the First World War, The Royal British Legion is encouraging communities to come together, recognise the contributions and sacrifice of those involved in the war and say Thank You in 2018.
"With the help from our exciting new partnership with Jersey Plants Direct, who have kindly provided the poppies, it will be wonderful to see these symbols of remembrance and hope grow and flower during the summer to create a stunning display and lasting memory for all to enjoy."
As part of its new partnership with the Legion, both in Jersey and throughout the UK, Jersey Plants Direct have agreed that with each sale of its Flanders Poppy Plants and selected planters, they will make a donation to help fund the Legion's crucial work with the Armed Forces and their families.
Jersey Plants Direct CEO, Tim Dunningham, said: "We are delighted to be associated with The Royal British Legion in the 100 years since the end of the war. We have devised a number of creative products to help keep alive the memory of all those who have been lost in previous conflicts.
We chose the Flanders Poppy as it was the original poppy which survived the horrors of the battlefield and these carefully grown little poppy and wildflower seed packs will be sold locally through St Peter's Garden Centre and through our website jerseyplantsdirect.com with a contribution from each pack sold going straight to the Legion to help with its many worthwhile causes."
For more information about the Legion's centenary campaign 'Thank You' visit www.britishlegion.org.uk or email thankyou@britishlegion.org.uk to request more information.
For more information about Jersey Plants Direct product range to help support the Royal British Legion please go to www.jerseyplantsdirect.com
ENDS
The Royal British Legion's work is encapsulated in its motto: Live On – to the memory of the fallen and the future of the living. The Legion is the nation's biggest Armed Forces charity providing care and support to all members of the British Armed Forces past and present and their families. It is the national custodian of Remembrance and safeguards the Military Covenant between the nation and its Armed Forces. It is well known for the annual Poppy Appeal, and its emblem the red poppy. www.britishlegion.org.uk