More than 100 wreaths were laid at the poignant service, organised by Legion Scotland, outside Edinburgh City Chambers, to remember those who have fallen in conflicts. Sir Alistair Irwin KCB CBE, the President of Legion Scotland and Poppyscotland, read Binyon's Lines after the bugler had played the Last Post.
Edinburgh's Lord Provost and Veterans Champion, Frank Ross, said: "I am so grateful to everyone who, by attending a service, buying a poppy, or observing Sunday's silence, have helped us show Edinburgh's enormous gratitude and appreciation for the sacrifices made 100 years ago.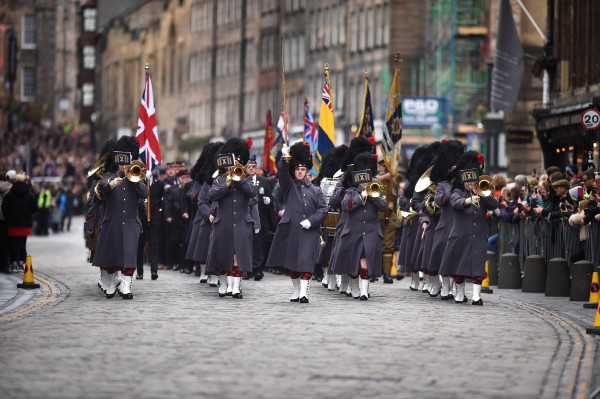 "As Scotland's capital city, we pride ourselves on our long military history and our continued work to support our Armed Forces community and veterans. This has been a major programme of commemorations with our Remembrance partners. On behalf of all citizens, I am proud we have been able to mark the centenary in such a poignant and fitting way."
First Minister Nicola Sturgeon MSP said: "The Scottish Parliament is a symbol of democracy in Scotland and it is an important moment to remember that we owe that democracy to those who made the ultimate sacrifice in conflicts across that last century. It is an important way for those of us in this generation to say 'Thank You' and to resolve never to forget."
Sir Alistair Irwin KCB CBE said: "All Remembrance Sundays are important, but this year's is particularly special and, indeed, unique. For Sunday 11th November 2018 is also the centenary of the Armistice. This combination will never recur.
"Quite rightly, we are remembering all those who sacrificed so much a century ago when our world changed forever. But in remembering the First World War today it is very important that we include in our thoughts all those men and women who have served and suffered in conflicts in the 100 years that followed. They are as important to all of us as those who fell in the Great War. Today is a day of great emotion and very rightly so. We will remember them."
A wreath was laid on behalf of the Scottish Commemorations Panel by Professor Norman Drummond CBE FRSE, who was supported by Gordon McNeill, Head Boy of Edinburgh Academy. The school had two Victoria Cross recipients in the First World War, and Gordon said: "Remembrance Day at The Edinburgh Academy has always been an important time of year – each school hosts an assembly and observes the minute silence, as we have done for many years.
"We honour the memory of our fallen Academy brothers with poems and speeches from our current students. The hall is always packed full of pupils and staff eager to pay their respects to the former students who gave their lives over 100 years ago."
Claire Armstrong, Operations Manager for Legion Scotland, added: "The last fortnight has seen a programme of events which have been both uplifting and poignant, as local communities, local authority representatives and members of the Armed Forces community have joined together to reflect and show their gratitude to all those who have served and sacrificed. This year has added significance as it concludes on the day 100 years ago that saw the signing of the Armistice which brought about the end of the First World War."
Following the service, The City of Edinburgh said 'Thank You' to all who served, sacrificed and changed our world by holding a procession that left from St Giles' Cathedral, and make its way to the steps of the Scottish National War Memorial, Edinburgh Castle, where a Drumhead Service was held.
The Moderator of the General Assembly of the Church of Scotland, Right Rev Susan Brown, laid a wreath on behalf of the General Assembly before leading the prayers of intercession at the Remembrance Sunday Service in St Giles' Cathedral. She said: "Poppies are not sold to glorify war, but to remind us of its cost.  When we remember, we remember the pain, the suffering, the loss and the cost of war – all of which the poppy symbolises so wonderfully.
"One-hundred years on from the outbreak of the 'Great' War, the black of the poppy's centre reminds us of the darkness that descends whenever war breaks out ,and its redness of the blood that is spilled as a result. The green stem, however, points to the seeds of hope within us all to nurture and grow peace in our own lives and communities, in the nation and the world. For the sake of those who so unselfishly gave their all, we are asked to play our part in letting peace flourish."
Notes to editors:
For further information, please contact David A. Findlay, PR Manager at Legion Scotland, on 079797 35611, or email at d.findlay@poppyscotland.org.uk. Images are free to use. Where appropriate, please credit: M Owens/Poppyscotland.
Lieutenant General Sir Alistair Irwin KCB CBE: After graduating from St Andrews University, Lieutenant General Sir Alistair Irwin was commissioned into the Black Watch (Royal Highland Regiment) in 1970. His career took him to many parts of the world including Hong Kong, Pakistan and West Berlin. His last two appointments in the Army were General Officer Commanding Northern Ireland and then Adjutant General. He retired from the Army in 2005 and since then has been actively engaged in veterans' affairs in Scotland. He has a number of honorary and voluntary appointments amongst which are President of the Royal British Legion Scotland and Poppyscotland. He is also Vice-Chairman of the Commonwealth War Graves Commission, with responsibility for the care of the graves and memorials to the dead and missing of the two world wars in 161 countries round the world. He lives on Speyside in the heart of malt whisky country.