A 77-year-old former Royal Marine, Jonathan Thomson, is taking on a gruelling 465 mile mountain cycling challenge through Wales for charity, with a 35,000ft climb, starting on 15th June from Swansea and finishing there on 21 June.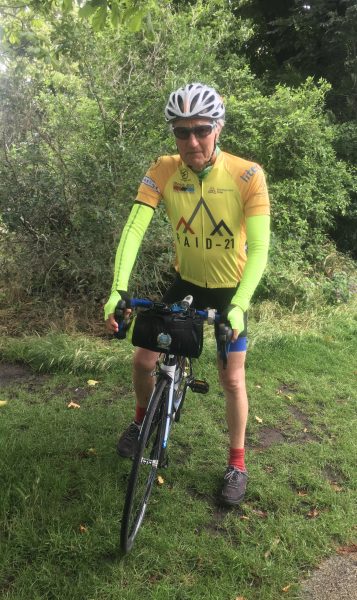 Jonathan has already raised over £50,000 in donations for UK forces veterans' mental health charity PTSD Resolution, cycling over 1,247 miles in total, along the north coast of Scotland in 2020, followed by the French Pyrenees in 2021:
"If things go well this year, we will cycle the Shetlands in '23, Ireland in '24 and Western Australia, the Munda Biddi Trail, in '25. I shall be 80 then, so I'm not counting my chickens!"
Joining Jonathan on 'Cycle Wales' are Jim, a former Royal Navy helicopter pilot, Neil, a former Royal Engineer, and Jez Scarratt, a fellow former Royal Marine. The team will be riding entirely unsupported – carrying all gear and meagre supplies on their bikes – a nod to the lack of support faced by Veterans:
"Put simply, too many of our Veterans suffer the evil effects of Post Traumatic Stress Disorder or PTSD," Jonathan says. "This wrecks their lives and deeply affects those of their families and close friends. It is also a major cause of suicide."
Founded in 2009, PTSD Resolution provides therapy for forces veterans, Reservists and their families. Therapy is free, effective and delivered both promptly and locally through a UK-wide network of 200 therapists – with treatment also available online or by phone.
The charity has a 'lean' operation with no salaried staff or assets, yet has had over 3,500 referrals to date. Therapy is delivered over an average of six sessions, with 78 per cent of cases seeing an improvement to the point where both the therapist and veteran agree no further treatment is required.
Wales Tour Schedule 
A detailed schedule has been devised (see below) and the all-important B&B overnight stays have been arranged. The foursome have committed to a daily departure time of 8.30 am –
"Life on wheels is all about routine," says Jonathan, "especially as the days go by and the body becomes more reluctant to do very much."
All expedition costs will be met privately so all funds raised will go directly to PTSD Resolution.
The team will spend Wednesday 14th June in Swansea before tackling their marathon ride the next morning. They are expected to arrive back in Swansea on Wednesday 21st June – although Jonathan has been known to finish his challenges ahead of schedule.
'CYCLE WALES' – 15 to 21 June 2022
Thursday 15 June: Swansea – Hermon (via Carmarthen)
Friday 16 June: Hermon – New Quay (via Fishguard)
Saturday 17 June: New Quay – Barmouth
Sunday 18 June: Barmouth – Chirk
Monday 19 June: Chirk – Knighton
Tuesday 20 June: Knighton – Llangenny
Wednesday 21 June: Llangenny – Swansea (via Sennybridge)
Training
Back in 2020, Jonathan found himself training for his first challenge, 'North Coast 500', during the lockdown. He developed a six-days-a-week routine involving a road bike, a turbo bike in the garden and a Wattbike Atom in the hall. This time the team have been free to train – albeit through the winter – but streamlining their kit for an unsupported ride has been a challenge.
PTSD Resolution Chairman and CEO, Colonel Tony Gauvain (Retired) says:
"Jonathan's fundraising journey to date has guaranteed the mental health recovery of 66 Veterans, some of whom were suicidal, others were drink or drug dependent, and others had not slept properly for years.  Over the past 11 years, we have helped over 3500 veterans or family members to recover their mental health, and continue to receive an average of eight new referrals a week.   So, our huge thanks go to Jonathan and his team for their valiant efforts; and our message goes to all potential donors to dig deep, to encourage Jonathan and his team to keep pedalling."

"Please help me support PTSD Resolution, and thereby help many men and women who continue to suffer from this condition," says Jonathan.

"All funds raised are used to support their therapy and outreach programme. As a rule of thumb, one course of six sessions, which can be life-changing, costs in the region of £750. PTSD Resolution is a remarkable organisation that deserves our support."
You can help Jonathan help UK Veterans, Reservists & families – by donating here: www.justgiving.com/fundraising/jonathan-thomson6