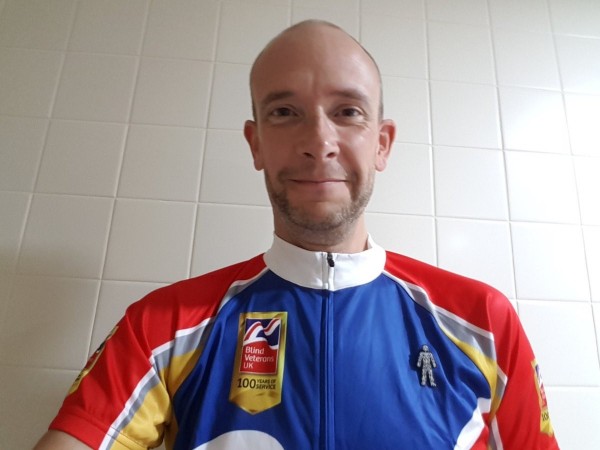 A writer and poet from Saltdean is currently training to compete in Revolve 24, the Brands Hatch Cycle Challenge, for Blind Veterans UK, the national charity for blind and vision-impaired ex-service men and women, for whom he is a volunteer.
David Attree, 44, has long been a cycling enthusiast and admits that the opportunity to take on the iconic track was simply too good to turn down. He explains: "The prospect of racing on a track as iconic as Brands Hatch was too good to be missed. Don't get me wrong, it's certainly a tough task, but I completed the London to Amsterdam ride both this year and last, so I'm 'bike-fit' as they say!"
Having grown up in Brighton, David has long been aware of the charity's training and rehabilitation centre in Ovingdean. He says: "Since my early childhood I've been fully aware of the wonderful work Blind Veterans UK does in providing opportunities for blind veterans to regain their confidence and lead fulfilling lives."
David writes and performs poetry, and has also written a children's picture book which is ready to be taken on by an agent. He admits that his decision to volunteer for Blind Veterans UK, which provides free lifelong support to vision-impaired ex-Service men and women, was a straightforward one. He says: "I visit their Brighton centre each week, spending time with a range of veterans. I've even had the honour of recently being named the centre's 'Writer in Residence'!" A wonderful privilege indeed.
"There are so many amazing stories waiting to be shared and recorded from all the beneficiaries who reside there. I'm delighted to be able to record them and write them up into punchier prose. These articles will soon be forming a section on the charity's website and I'm excited for people to read them."
Despite being in peak fitness ahead of the event, David remains all too aware of the challenges posed by the circuit, notorious for its undulating terrain. He says: "I've committed to what will, in effect, be six hours of interval training. It's a gruelling prospect but I am focused on honouring my commitment (however hard that may be!)"
"With that in mind I'm training hard, doing upwards of 130 miles per week on hilly routes. It'll be a bizarre relief come race day when there are is no traffic or pot-holes to contend with!"
Despite the physical task that lies ahead, David is excited by the prospect of raising money and awareness for the charity and the beneficiaries that it supports. He explains: "I'm looking forward to raising as much as possible for a fantastic charity. With an iconic track and a truly worthwhile cause, it should really be a fantastic occasion.
"For anyone else considering taking part in a fundraising challenge, I'd say, quite simply, do it! The spirit of these events are amazing and suitable for people of all abilities."
To donate to David, please visit: justgiving.com/davidattree3.
To find out more about the Revolve24 Brands Hatch Cycle Challenge, please visit: blindveterans.org.uk/revolve24
For all media enquiries please contact: Felix Arbenz-Caines, PR Assistant, Blind Veterans UK, 12 – 14 Harcourt Street, London, W1H 4HD, E: Felix.Arbenz-Caines@blindveterans.org.uk, T: 020 7616 7941
Notes to Editor
Blind Veterans UK
Blind Veterans UK is a national charity that believes that no-one who has served our country should have to battle blindness alone. Founded in 1915, the charity provides blind and vision impaired ex-Service men and women with lifelong support including welfare support, rehabilitation, training, residential and respite care.
Find out more at: blindveterans.org.uk, follow us on Facebook at: facebook.com/blindveteransuk and on Twitter at: twitter.com/blindveterans.