Nikki Scott, Founder of Scotty's Little Soldiers, has been selected as the winner of the Family Values Award at the 2020 Soldiering on Awards.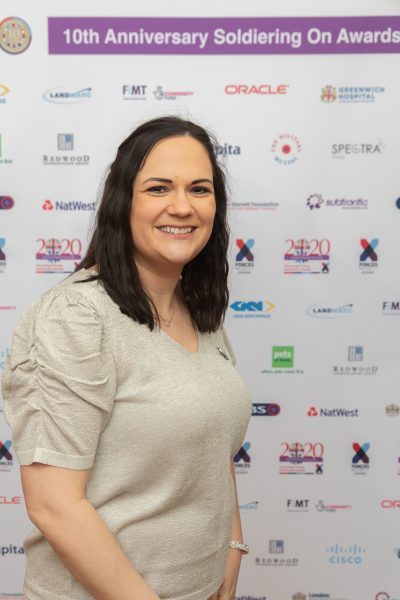 The Soldiering on Awards recognise and celebrate the outstanding achievements of those who have served their country, and the diverse people and groups who work together in support of the Armed Forces Community.
After Nikki's husband, Corporal Lee Scott, was killed in Afghanistan in 2009, leaving behind two young children, Nikki saw the devastating impact on them, and the following year she set up Scotty's Little Soldiers to help other kids in the same situation. Ten years on, the charity has supported hundreds of bereaved military families, and this year alone, the Scotty's has assisted 437 children who have lost a parent who served in the British Armed Forces.
Nikki Scott said:
"The whole team at Scotty's Little Soldiers are honoured to receive this award. I know that I speak on behalf of a few bereaved families, when I say we can sometimes feel disconnected from the military – Soldiering on Awards is just another way of helping our families to feel back within the #militarycommunity again."
This year's first round of five virtual Soldiering on Awards ceremonies was compèred by actress Fiona Dolman. The awards have been split into different categories and will be announced across five virtual ceremonies, including a special livestream event, with all the 2020 winners and finalists invited to the 2021 awards ceremony, where it is hoped everyone can finally get together.
The Family Values Award is sponsored by The Military Mutual and Nikki and the team at Scotty's were delighted to receive a message of recognition from last year's winners of the very same award. Mandy and Jamie Small are extremely familiar with the work of Scotty's Little Soldiers as Jamie, who lost his dad, Cpl Chris Small, in 2016, is a member of the charity. His mum, Mandy, has also felt supported by Scotty's.
Mandy and Jamie Small, 2019 Soldiering on Award Family Values winners, said of Scotty's Little Soldiers' win:
"Huge congratulations to Nikki, and actually a huge thank you for everything you do, not just for our children, but also for us as parents. I know I can speak on behalf of all the families you support and that you are absolutely amazing. Thank you!"
Lt Colonel Ren Kapur MBE, CEO of X-Forces Enterprise and Co-Chair of the Soldiering On Awards said:
"We are thrilled to congratulate these inspirational winners and it was wonderful to gather everyone together and celebrate our amazing community in these challenging times. 

"This virtual event wasn't quite what we had envisioned but we want to thank all of the judges and particularly the sponsors for continuing to support the Soldiering on Community; making sure that everyone's experience this year is as special as we can possibly make it."  
The 2020 Awards mark SOA's 10th anniversary and the first full awards cycle since becoming part of X-Forces Enterprise (XFE). During those 10 years, over 120 winners, teams, charities, businesses and animal partners, across a range of categories along with countless more finalists, have been recognised for their outstanding contribution to the Military Community.
Nikki is also a finalist for the 2020 Soldiering on Inspiration Award (sponsored by Natwest). The winner will be announced on 15 October.