In memory of the country's fallen heroes, Scotty's Little Soldiers is asking supporters to don their ghoulishly green outfits on the 31st October and make a donation, no matter how big or small, to the charity helping children to smile again after the loss of a parent serving in the Forces.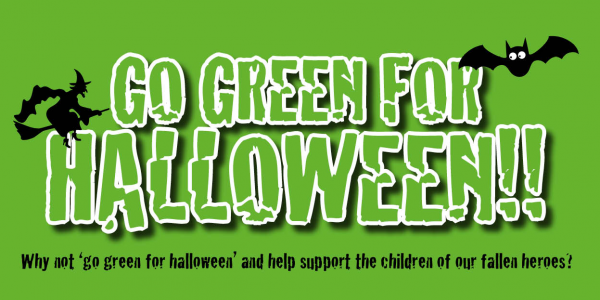 Founded by war widow Nikki Scott in 2010, Scotty's Little Soldiers supports children across the UK who have lost a parent while serving in the Armed Forces. The charity was set up in memory of Nikki's husband and father to her two children, Corporal Lee Scott, after he was killed in Afghanistan whilst in action in 2009.
No matter how small, tall, spooky or sweet, everyone is welcome to join in the Scotty's fun and help raise funds to assist the charity that continues to deliver a high level of support to bereaved Forces children when they need it the most.
Charity founder, Nikki Scott said: "We're very excited to get into the spooky spirit and go green for Halloween. The Scotty's team and I will be putting our goulish feet forward and dressing up to help spread the word about Scotty's and raise as much money as possible. We cannot wait to see everyone dressed up in their favourite outfits, we're certain it's going to be a fang-tastic day".
To make a donation, supporters can text 'GGFH18' and the amount to 70070, or click here to donate online. For more information on Scotty's Little Soldiers, follow this link:
http://scottyslittlesoldiers.co.uk/
#GoGreenForHalloween
Notes to editors
To speak to a member of the Scotty's Little Soldiers team, please contact Scotty's national PR agency: Claire Lomax (claire@wolfstarconsultancy.com), Chris Grayson (chrisg@wolfstarconsultancy.com), Fran Wyatt (fran@wolfstarconsultancy.com) or 0113 273 7816. 
About Scotty's Little Soldiers
Scotty's Little Soldiers, founded in 2010, honours Corporal Lee Scott's memory – both as a loyal soldier and a loving father – and provides a practical yet personal way for the public at large to show their appreciation for those brave individuals who make the ultimate sacrifice in the service of their country. Currently Scotty's Little Soldiers supports 354 bereaved children and runs a variety of programmes to help children smile again and look forward to a brighter future. You can visit the charity online at http://www.scottyslittlesoldiers.co.uk/.