This May, children's Armed Forces charity, Scotty's Little Soldiers, is set to get the nation moving once again with the launch of its Month of May Marathon.
Now in its third year, the aim of the Scotty's Month of May Marathon is to complete the marathon distance of 26.2 miles throughout the month in any way that you please, whether that's simply walking the distance or thinking outside the box and donning your Roller Blades to skate the distance.
All money raised will go to Scotty's Little Soldiers, supporting hundreds of bereaved Forces children across the country when they need it the most.
Founded by war widow Nikki Scott in 2010, Scotty's Little Soldiers supports children across the UK who have lost a parent while serving in the Armed Forces. The charity was set up in memory of Nikki's husband and father to her two children, Corporal Lee Scott, after he was killed in Afghanistan in 2009.
Over the last two years, the Month of May Marathon initiative has contributed to over £14,000 of donations raised for the charity and Nikki only hopes that will continue to grow.
She said:
"What I love about the Month of May Marathon is that almost everyone can get involved, it's a challenge you can take on as a family that not only raises much needed funds but promotes a healthier lifestyle. Over the years we've seen supporters complete the distance in a variety of ways, from walking in flip flops to a marathon march, which is what makes it fun to be a part of. Everyone, from the members we support to new supporters, can get involved, and I can't wait to see what this year holds in store."
Open to all ages, sizes and fitness abilities, fundraisers can walk, run, skip or jump their way through the Month of May Marathon, breaking up the distance into smaller miles, or completing the marathon in one go.
After creating a fundraising page on May Marathon, fundraisers can update their completed miles on their profile, and if a fundraiser uses a fitness app, this can be done automatically from their smart phone.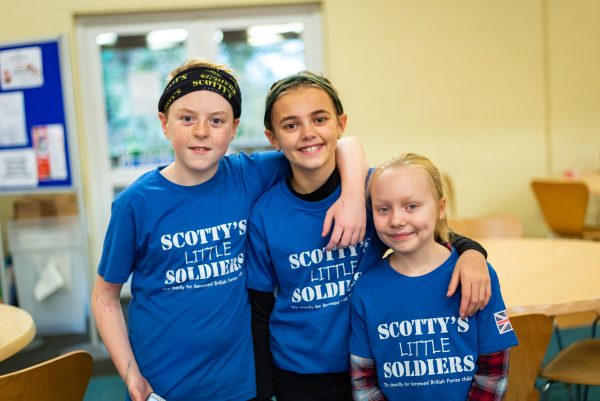 Rewarding everyone who takes part, fundraisers will receive a special certificate of achievement for completing the full marathon miles. Fundraisers will also receive a Scotty's neck warmer for raising £50, a Month of May Marathon medal for £100 and a running vest or children's T-shirt for £150.
To sign up for the Month of May Marathon visit http://www.maymarathon.com/ or watch the video https://youtu.be/5JO3XX8ymBk
Notes to editors
To speak to a member of the Scotty's Little Soldiers team, please contact Scotty's national PR agency: Claire Lomax (claire@wolfstarconsultancy.com), Chris Grayson (chrisg@wolfstarconsultancy.com), Fran Wyatt (fran@wolfstarconsultancy.com) 0113 273 7816.
About Scotty's Little Soldiers
Scotty's Little Soldiers, founded in 2010, honours Corporal Lee Scott's memory – both as a loyal soldier and a loving father – and provides a practical yet personal way for the public at large to show their appreciation for those brave individuals who make the ultimate sacrifice in the service of their country. Currently Scotty's Little Soldiers supports 372 bereaved children and runs a variety of programmes to help children smile again and look forward to a brighter future. You can visit the charity online at http://www.scottyslittlesoldiers.co.uk/