Are you an Armed Forces Veteran currently living in Croydon, or who has had previous links with the Armed Forces Community in the borough? Croydon Commitment is looking for veterans of any age who have served in Her Majesty's Armed Forces to help them celebrate the start of Armed Forces Week on Monday 25 June 2018.
Croydon Commitment is a local charity that helps businesses achieve the best value and impact from business corporate social responsibility (CSR) activities to benefit local people and the environment. Croydon Commitment has recently been awarded a grant from the Armed Forces Covenant to host another Veteran's Celebratory lunch, based on the successful celebrations held in 2016. On that occasion, over 100 local veterans came together for a lunch at to commemorate Armed Forces Day. This year, along with veterans, the charity is also inviting a group of Air Cadets to help celebrate the 100th anniversary of the founding of the RAF.
The Veteran's and Cadet's Lunch will take place after Flag Raising at the Town Hall on Monday 25 June at 11.30am. De Vere Selsdon Estate will host the Veteran's Lunch and guests will enjoy a fine lunch, have a chance to reminisce and talk to other guests and to celebrate their service to the community.
Colonel McRobbie, OBE TD DL, Representative Deputy Lieutenant for the London Borough of Croydon said 'The Armed Forces Group in Croydon, is delighted that once again, through Croydon Commitment we will be able to recognise the service of veterans living in the borough. The 2016 Celebratory Lunch was a splendid occasion and we are keen to celebrate this year's event with as many veterans as possible'.
Croydon Commitment would like to hear from any veteran who would like to join in the celebrations. Guests can be any age, from any Arm or Service, regular or reserve or have a wider association with the Armed Services community (ie they may have worked in a munitions factory or been involved with the Land Army) and have a connection to Croydon.
If you know of anyone who would like to be a guest, or would like information about sponsorship packages regarding the event, please contact Melinda Ashford on 020 8774 3680, 07786 438964 or email melinda.ashford-mm@mottmac.com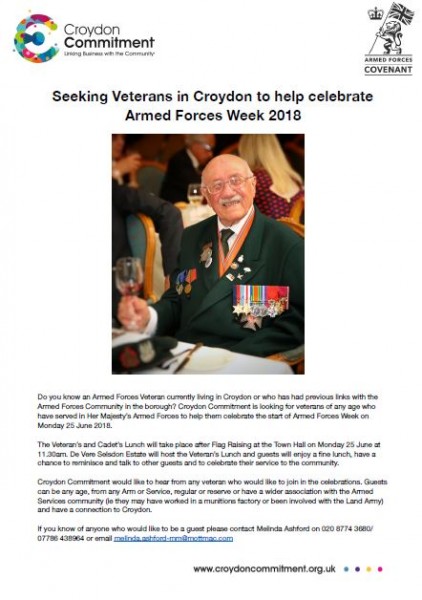 Follow this link to the flyer.
-ends-
Contact: Melinda Ashford, Partnership and Programmes Manager, 07786 438964, melinda.ashford-mm@mottmac.com
1.Croydon Commitment:
Croydon Commitment is a well-established charity, founded in 2004 to help Croydon businesses to achieve the best value and impact from business corporate social responsibility (CSR) activities to benefit local people and the environment. Since then, we have helped businesses find exciting and meaningful projects that inspire their staff volunteers, support local people and improve the local environment. From educational workshops that help to develop a skilled workforce to environmental team challenges that keep Croydon one of the greenest boroughs in London, our groups of volunteers continue to make positive differences to Croydon.
Armed Forces Covenant:
The Armed Forces Covenant sets out the relationship between the nation, the government and the armed forces. It recognises that the whole nation has a moral obligation to current and former members of the armed forces and their families, and it sets out how they should expect to be treated. The Covenant Fund has £10 million each year to support the Armed Forces Covenant by funding projects which address specific priorities. www.armedforcescovenant.gov.uk
Armed Forces Day:
Armed Forces Day is a chance to show support for the men and women who make up the Armed Forces Community: from currently serving troops to Service families, veterans and cadets. Armed Forces Day 2018 is on Saturday 30 June 2018. The London Borough of Croydon will mark the start of Armed Forces Week by a flag raising ceremony on Monday 25 June at 11.30am. www.armedforcesday.org.uk