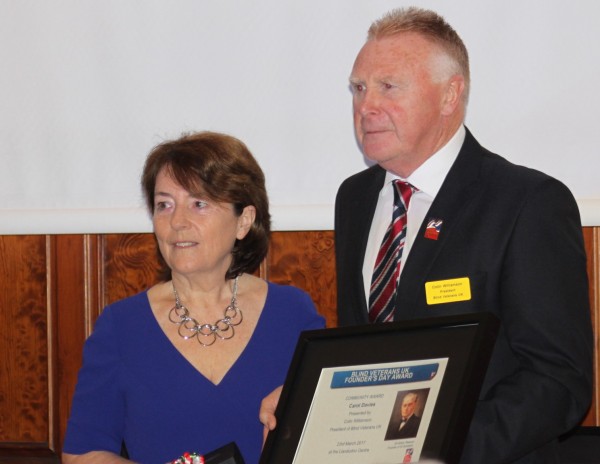 A blind veteran from Skegness has received a prestigious award from military charity Blind Veterans UK, the national charity for vision-impaired ex-Service men and women.
Carol Davies, 66 and from Skegness, received the Blind Veterans UK Community Award which is given to recognise the contribution by a blind veteran, spouse, widow or widower to the family of Blind Veterans UK.
Carol was nominated for the award at the charity's annual Founder's Day Awards primarily in recognition of her work in setting up a social group for blind veterans. The group, called GOAL, which stands for Get Out and Live, was established by Carol and fellow blind veteran Chris Humphry in 2012. It was set up for blind veterans who are aged 60 to 75 and who want to participate in more active social events and holidays.
She says: "I was very surprised and honoured to even have been nominated. Chris had the idea for GOAL as when he reached the age of 60 and he had to leave the working age blind veterans group he felt that there was nothing in the charity that catered for those of us who were independent and looking for a challenge. I was more than happy to help."
Over the last four years Carol has either individually or jointly organised around 15 events for blind veterans across the UK to come together for a week to have fun, share experiences and support each other in doing something 'a bit more challenging'.
Activities have included zip wires, museum visits, steam train trips, prison visits and much more. She has also helped other blind veterans to develop confidence to organise their own events.
Carol, who is severely vision impaired, joined the Women's Royal Army Corp in 1968 at the age of 17. After she had done her training, she
then went on to work for the Royal Signals as a telephonist in Northern Ireland until she was discharged in 1969.
Carol was diagnosed during the 1980s with uveitis after her optician referred her to a specialist. She found out she was entitled to receive free support from Blind Veterans UK after a couple her and her husband met at a local blind club recommended she get in touch as she had served in the army.
She says: "Blind Veterans UK is like a safety net. I, and the other veterans the charity helps, are so lucky to be supported by this wonderful organisation.
"I've realised life is too short to waste. You have to take what you have and make the most of it. I also think it's also important to try things, as you just don't know what you might be capable of. That's what all of us in the GOAL group believe."
Carol's nomination, read out on the day, talked about talked about how she has been an inspiration to other blind veterans. It goes on to say: "Carol adapts the programme to meet everyone's preferences, makes a big effort to include all and make everybody feel at ease. Carol has donated many hours of her time and personal finance to make these events happen and be successful."
Since she started to receive support from Blind Veterans UK, Carol has also found a love for sport, particularly archery. In 2014 she set a new record in her category at the British Blind Sport Archery National Outdoor Championships at Lilleshall.
She adds: "I was introduced to the sport when I was on my induction week at one of Blind Veterans UK's rehabilitation centres. The coach commented that I should take it up and now I am the secretary for the British Blind Sport Archery section."
Carol's work with the Blind Veterans UK GOAL group will continue and she says: "We are now lowering the joining age of GOAL to 50 to give more blind veterans the opportunity to Get Out and Live. We want to continue to promote independence and confidence and to support each other."
Blind Veterans UK was founded in 1915 and the charity's initial purpose was to help and support soldiers blinded in WWI. But the organisation has gone on to support more than 35,000 blind veterans and their families, spanning WWII to recent conflicts including Iraq and Afghanistan.
For more than a century, the charity has been providing vital free training, rehabilitation, equipment and emotional support to blind and vision-impaired veterans no matter when they served or how they lost their sight. Visit blindveterans.org.uk/support to learn more about the charity and how you can support its vital work today.
ENDS
For all media enquiries please contact: Mark Wheeler, PR Manager, Blind Veterans UK, 12 – 14 Harcourt Street, London, W1H 4HD, E: mark.wheeler@blindveterans.org.uk, T: 020 7616 7980
Notes to Editor
Blind Veterans UK
Blind Veterans UK is a national charity that believes that no-one who has served our country should have to battle blindness alone. It provides blind and vision impaired ex-Service men and women with lifelong support including welfare support, rehabilitation, training, residential and respite care.
Find out more at: www.blindveterans.org.uk, and follow us on Facebook at: www.facebook.com/blindveteransuk and on Twitter at: twitter.com/blindveterans.