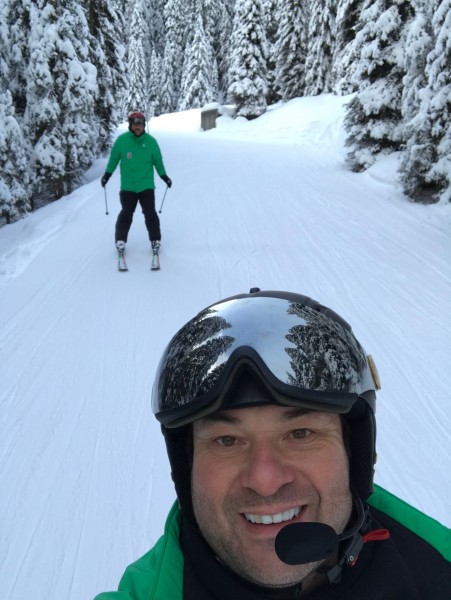 A blind veteran from Buckinghamshire has been skiing in Canazei, Italy, with other vision-impaired Armed Forces veterans, thanks to national military charity Blind Veterans UK.
Carl Williams, 46 and from High Wycombe, skied in the Dolomites mountain range with 24 other vision-impaired skiers as part of the charity's 41st annual ski trip. Carl learned to ski 14 years ago with the support of Blind Veterans UK and has helped organise the event since 2013, when he joined the veteran-led ski trip committee.
Carl says: "The Blind Veterans UK ski trip is one of the highlights of my year. Being out on the slopes for a week gives me enough confidence to bottle up, take home and use for whatever other challenges I face in my day-to-day life.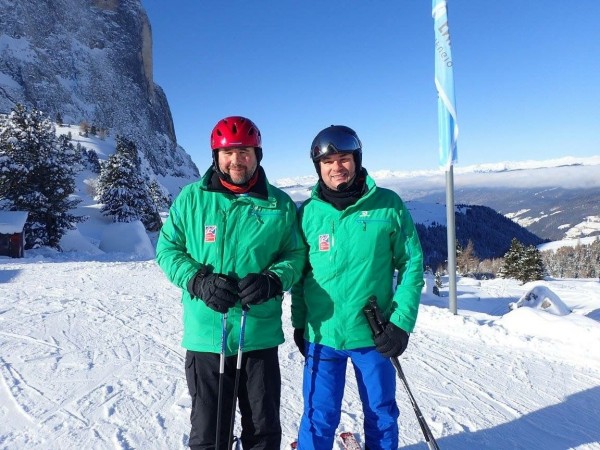 Carl joined the Royal Navy in 1990 as an Artificer Apprentice, however during his training at HMS Daedalus his central vision started to deteriorate rapidly. Following extensive medical tests at Royal Naval Hospital Haslar he was diagnosed with a hereditary eye condition known as Leber's Optic Atrophy, which left Carl with only limited peripheral vision. He was medically discharged from the Navy in 1991 at the age of 19 and registered blind.
Carl says: "My time in the Navy was sadly cut very short. It's a period of my life I still dream of in full technicolour and I miss it a lot. But I do think that losing my sight at a young age made me very adaptable, and I wasn't going to let it stop me living my life."
Carl joined Blind Veterans UK in 1991 and attended the charity's Brighton training and rehabilitation centre. He was given mobility training with a long cane and took cooking, braille and IT courses to help him adapt to his sight loss. Carl even learned to ride a bike again during his first year with Blind Veterans UK, and went on to complete a London to Brighton tandem bike ride to raise funds for the charity.
Carl says: "The unconditional care, compassion and structured retraining given by Blind Veterans UK helped me to accept my sight loss. Without it I'm pretty sure I would have lost my motivation, discipline and path to recovery.
"The charity equipped me with the life skills and determination to keep going when the chips were down, for which I'm truly indebted."
Now married with two young children, Carl has forged a successful career in IT over the past two decades. He skis with the support of a guide who gives him instructions via a microphone and earpiece.
Of the ski trip Carl says: "My guide Lee, who currently serves in the Royal Electrical and Mechanical Engineers (REME) was brilliant. We just clicked, and although I class myself as an intermediate skier, this year I definitely ramped it up a notch."
Blind Veterans UK is the national charity for blind and vision-impaired ex-Service men and women, providing vital practical and emotional support to help veterans discover life beyond sight loss.
The charity is reaching out to the estimated more than 400 vision-impaired ex-Service men and women in Buckinghamshire battling severe sight loss who could be eligible for support but don't currently realise it. Most of these veterans completed their service many years ago, and have since lost their sight due to conditions such as macular degeneration or glaucoma.
If you, or someone you know, served in the Armed Forces or did National Service and is now battling severe sight loss, find out how Blind Veterans UK could help by calling 0800 389 7979 or visiting blindveterans.org.uk.
ENDS
For all media enquiries please contact:
Ruth Moore, Communications and Marketing Assistant, Blind Veterans UK, 12 – 14 Harcourt Street, London W1H 4HD, E: ruth.moore@blindveterans.org.uk T: 020 7616 7955
Notes to Editor
Blind Veterans UK
Blind Veterans UK is a national charity that believes that no-one who has served our country should have to battle blindness alone. It provides blind and vision-impaired ex-Service men and women with lifelong support including welfare support, rehabilitation, training, residential and respite care.
Find out more at: www.blindveterans.org.uk, and follow us on Facebook at: facebook.com/blindveteransuk and on Twitter at: twitter.com/blindveterans.