We all know these are unprecedented times. Never in our lifetimes have we seen a situation where the world has almost ground to a halt. Where children can't go to school and only key workers can leave their homes to go into work. Our NHS is under unbearably intense pressure and we all feel we are taking our lives into our own hands every time we go to the supermarket for essentials. The economy is being crippled, with very few individuals feeling financially secure. The ripple effect goes beyond anywhere that we can really imagine, with consequences for every living being.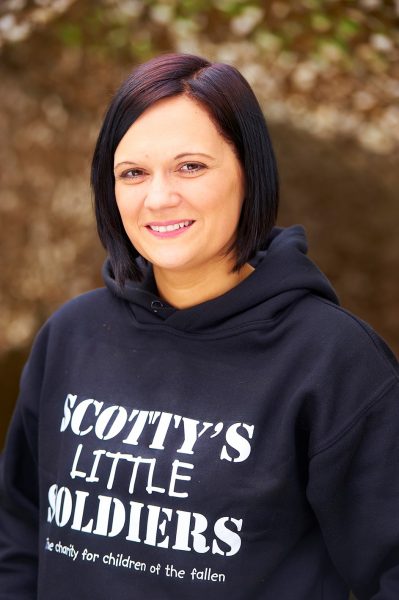 The government is offering much needed support to businesses, the self-employed, and at the time of writing this article it's been announced that there will be help for charities. But with charities estimated to lose around £4bn in 12 weeks due to a lack of funding, will it be enough?
For many charities this frightening time only increases the need for their service. Putting staff on furlough isn't an option for a small team of charity workers with beneficiaries crying out for support. This is certainly the case for children's military charity Scotty's Little Soldiers.
Scotty's Little Soldiers supports children who have lost a parent who served our country. Founder, Nikki Scott, set up the charity after her husband, Corporal Lee Scott, was killed in action in Afghanistan in 2009, leaving behind two young children. Nikki witnessed first hand the effect the loss of a parent can have on a child, so in 2010 she established the charity to offer much needed support to other bereaved British Forces children.
Ten years on, Scotty's currently supports close to 400 children and young people across the UK and provides health and wellbeing care, development opportunities and the chance to smile again by going on holidays, receiving gifts at important times of year and going to special events where the kids can form friendships with others in the same situation.
Of course, many of these things can't happen at present. Not whilst we are all isolated in our own homes. But Nikki and her team aren't willing to turn their backs on their families, and especially not in their time of need.
Nikki said:
"The feedback from our families is that knowing Scotty's is there for them makes such a huge difference to their lives. Every one of our members is a child grieving for their parent and they need to feel part of a community where other kids understand what they are going through."
Nikki continued:
"Of course times are tough for every family right now. All parents are struggling to juggle work and home schooling, every parent is worried about their financial situation and of course every parent wants to protect their child and the rest of the family from this deadly illness. But on top of these strains, the children we support are already dealing with a number of pre-existing challenges. We have beneficiaries who are currently struggling with grief, who have young carer responsibilities, high anxiety levels, financial hardship and unfortunately even cases of domestic violence. Many of these kids also have a greater fear of death than most children because they have been through it – they have already lost a parent. The majority of our members live with a single parent, which can be very difficult at this challenging time. We're also hearing from our families how agonising it is to not even be able to visit their hero's grave."
Scotty's Little Soldiers is run by a team of eleven people, all dedicated to supporting bereaved British Forces children. With such a small team, it's all hands-on deck, to provide the best support possible and to keep the charity going.
Stuart Robinson, Scotty's Little Soldiers CEO, explained:
"The children need us more than ever, so we are working harder than ever. We can't send our families on respite breaks at the moment and we can't continue with the events we'd planned, but we are busy rescheduling breaks and moving planned events such as our support retreat to later in the year. In fact, in the past few weeks, over 100 families have booked their breaks, which shows the need for them to have something to look forward to."
Stuart continued:
"Our dedicated Head of Support, Bev Townsend, is supporting our families remotely. She's busier than ever helping around 40 bereaved Forces children a week with anxiety and stress and many other challenges. Bev is running a series of virtual support groups for kids and virtual coffee mornings for parents. There's also special support for families where the children have Special Education and Disability Needs.

"As a team we are doing everything possible to ensure the children don't feel alone so we are organising a number of virtual events and fun activities for the kids and we are communicating with our families regularly. Our direct engagement levels have gone through the roof."
The Scotty's team worked hard ahead of the country going into lockdown to pack up and send three months' worth of birthday presents and anniversary of death vouchers out to the children, and they were each sent an Easter egg – over 400 were sent out courtesy of BAE Systems.
"Special occasions like birthdays, Easter and of course the anniversary of their parent's death are already so tough for these kids, but now they are also facing them stuck at home and away from their friends, so we wanted to do everything possible to get these gifts to them. The team worked really hard and we were so pleased we managed to get such a huge amount out before the lockdown," said Nikki.
Scotty's Little Soldiers has used some of its reserves to pay for their families to have Disney+ in their homes for six months. Many of the families wouldn't be able to afford this, but it will help ease the boredom of weeks and possibly months at home.
It's important not to forget that a charity like Scotty's Little Soldiers can't exist without funding. It's a very worrying time, as a large proportion of money is raised through events, which have been cancelled. In March, Scotty's income was 46% down on budget.
Stuart said:
"Of course it's a big concern. We are continuing to support our families though this time and must continue to do so in the future. We have made a promise to all these children to be here for them throughout their childhood and into adulthood, and we are doing this in honour of their deceased parent who made the ultimate sacrifice to serve our country. However, we need money to keep coming in."
Scotty's Little Soldiers have created a virtual fundraising platform where supporters can sign up for any number of challenges that can be done from home. There's lots of great ideas on there to help keep people occupied during this time, as well as benefitting bereaved British Forces children.
People are climbing their stairs a crazy amount of times and running miles on the spot for days to reach goals worthy of sponsorship, and birthday fundraisers are proving popular, but will it be enough for Scotty's Little Soldiers and other charities to continue their integral support. Only time will tell.
To find out more about Scotty's Little Soldiers, go to www.scottyslittlesoldiers.co.uk.
To find ideas on how to take part in a virtual challenge or event, go to vf.scottyslittlesoldiers.co.uk 
Contact: Sarah Woonton – 07753971624 / sarah@scottyslittlesoldiers.co.uk