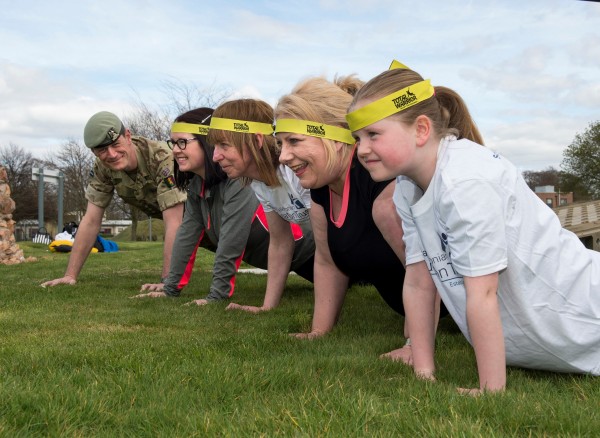 26 June 2017 – A team of soldiers from the Royal Scots Dragoon Guards (SCOTS DG) have signed up for a gruelling Total Warrior challenge to raise funds for Scotland's Armed Forces Children's Charity.
The 11 strong team are hoping to raise over £2,500 by putting themselves through 10 km of 30 punishing challenges, including: crawling under barbed wire through 50 metres of mud; wading through iced water; rope climbs; jumping over flaming logs, and negotiating their way through hundreds of electrical currents in order to cross the finish line.
The SCOTS DG team is the latest to sign up to raise money for RCET at Total Warrior which is expected to attract over 4,500 entrants for the challenge which is taking place at Balgone Estate in North Berwick on 16th and 17th September.
Based in Edinburgh, the Royal Caledonian Education Trust (RCET) provides vital grant funding to children from veteran armed forces families who are struggling to make ends meet, and often living with mental health issues, ill health and disability. The grants help to cover the cost of school clothing, after-school activities, and school trips.
RCET also provides educational resources and training to help teachers and other professionals recognise and support children and young people experiencing difficulties in school – particularly due to frequent mobility and during times when a parent is deployed away from home.
The Commanding Officer of the SCOTS DG, Lieutenant Colonel Dominic Coombes who will be participating as part of the 11 strong team said, "RCET is a fabulous charity that provides an outstanding service to military families who really need their help. In the Army we focus on endurance fitness, often getting wet and muddy in the process so the opportunity to combine this with the ability to help RCET was too good an opportunity to miss! "
Matthew Middler, fundraising manager for RCET, said: "RCET is delighted that a team from one of Scotland's largest Army Regiments has chosen to take on this amazing challenge and raise funds for RCET.  Each year we distribute as much as £100k in grants to military and veteran families and every pound raised makes a vital difference to the children and young people from these families who receive our support."
RCET still have 25 places available to participate in Total Warrior. If you'd like to take on Total Warrior and help raise vital funds for the RCET, please visit www.rcet.org.uk for more information.
Ends
 For more information or photography, please contact: Jen Nash, Panache Communications, Tel. 07971 466220 jen@panachecommunications.co.uk
NOTES TO EDITORS
PICTURE CAPTIONS – FREE HIGH RES PHOTOGRAPHY IS SUPPLIED WITH THIS NEWS RELEASE FOR YOUR USE
005: (L to R)  Captain Dave Branney who is participating in the 11 strong Royal Scots Dragoon Guards (SCOTS DG) team, along with his wife Lou Branney, Marie-Anne Goodhall and Veronica Wootton from the Welfare Team at Leuchars Station, Isobel Branney who are also raising funds for RCET by participating in Total Warrior.
The Royal Caledonian Education Trust (RCET) was founded in 1815 to provide education support to the children of serving and veteran Scottish Armed Forces personnel. The charity provides grants assistance where financial difficulties, ill health and disability can hinder a child's learning and development. We also work in partnership with schools and the wider Armed Forces community to respond effectively to the needs of Armed Forces children in Scotland through a national Education Programme (including undertaking essential research), ensuring equality of opportunity to learn and develop without disadvantage.
Website:    www.rcet.org.uk  Facebook:  www.facebook.com/rcetscot  Twitter:      @rcet_scot
About Total Warrior
Total Warrior is at the forefront of the expanding Obstacle Course Racing (OCR) movement in the UK, creating "the greatest courses in the finest venues". Total Warrior's other two events in Leeds and the Lake District last year attracted some 15,000 entrants between them – thousands of them Scots who had travelled hundreds of miles to seek the ultimate test of stamina, strength and determination.
Total Warrior obstacles are carefully designed and built by hand on each site to make sure every obstacle is as safe, challenging and fun as it can be. The layout of each course is carefully considered to maximise enjoyment and ensure a good flow of people around the course.