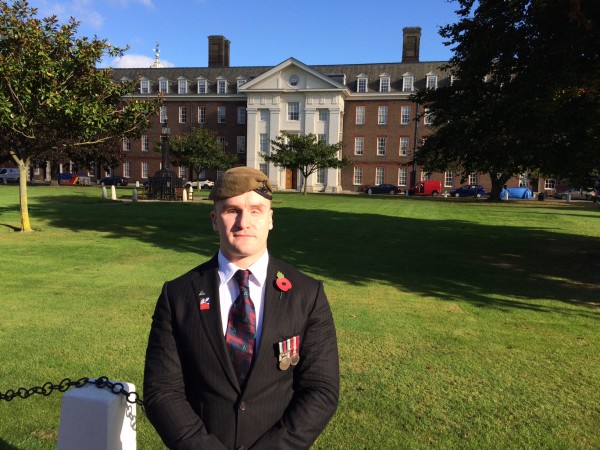 A blind veteran from South East London is set to march at the Cenotaph in London this Remembrance Sunday (12/11) with the charity Blind Veterans UK.
Rob Long, 30, will be marching at the Cenotaph in London with more than 100 other blind veterans supported by Blind Veterans UK, the national charity for vision-impaired ex-Service men and women.
Rob says: "Remembrance is a time to pay your respects to all those brave men and women who have paid the ultimate price for their country. For me personally, it's also a time to reflect on and remember my friend, Bombardier Sam Robinson, who unfortunately lost his life in the incident which robbed me of my sight."
Rob joined the 5th Regiment of the Royal Artillery in 2008 and went on to become a member of the Special Observation Battery. Having fulfilled his boyhood dream of a career in the Army's surveillance regiment, Rob was stationed in Afghanistan where he undertook his first operational tour.
In 2010 and just two months into the tour, his life changed forever when one of his unit triggered an Improvised Explosive Device (IED), leaving Rob with life-threatening injuries and sadly taking the life of Bombardier Robinson.
Describing the incident, Rob recalls: "I can't really remember much, just some members of my unit shouting, before I eventually blacked out. I then remember waking up in hospital, having initially been airlifted from the scene to Camp Bastion, and then onto Queen Elizabeth Hospital Birmingham."
Rob's left eye was destroyed immediately, and the right was so badly damaged that it later had to be removed in the hospital. His skull was also fractured, which resulted in a minor brain bleed and the loss of his sense of smell.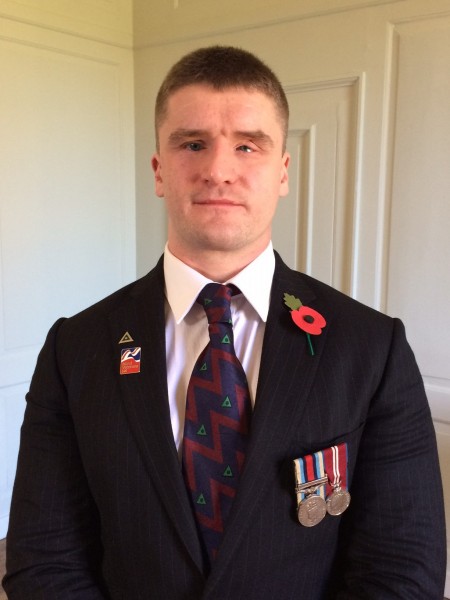 Shortly after the incident, Rob began receiving the free lifelong support provided by Blind Veterans UK, and it is through the charity that Rob maintains he's been able to remain positive. He says: "I'd never heard of the charity before but a representative visited me in hospital. A few weeks later I was invited to its Brighton centre, where I was subsequently told I was eligible for the charity's support.
"Over the past seven years Blind Veterans UK has provided me with all the help I need to get my independence back. The skills it's equipped me with have allowed me to take on many of life's challenges, from making cups of tea to navigating my way around London independently.
"More importantly than that, it's given me a support group of people who all share the common challenge of battling sight loss. That for me is another reason why marching at the Cenotaph is so special. To be able to do with it with my fellow blind veterans is an honour."
Rob is set to march with other vision-impaired ex-Service men and women supported by Blind Veterans UK as part of the national Remembrance Sunday commemorations in London on Sunday 12 November 2017. Specsavers stores across the UK will be fundraising from 6 to 12 November on behalf of Blind Veterans UK to help Rob, and others like him, march at the Cenotaph. To find out more, you can visit: blindveterans.org.uk/helprob.
Specsavers has supported Blind Veterans UK since 2012 and, as well as raising money for the charity, has referred a number of customers to them so they can access its support.
Chief Executive of Blind Veterans UK, Major General (Rtd) Nick Caplin CB says: "Remembrance Sunday is always a very poignant time for our blind veterans and it is fantastic that Specsavers are able to support them to get to march at the Cenotaph.
"Today, Blind Veterans UK supports more blind and vision-impaired veterans than ever before in the charity's history and we have set an ambitious target to double the number of veterans we support in the next five years."
Blind Veterans UK is the national charity for blind and vision-impaired ex-Service men and women, providing vital practical and emotional support to help veterans discover life beyond sight loss. The charity estimates that there are currently 59,000 blind veterans that would be eligible to access its specialist support, most of whom are not currently aware of it.
If you, or someone you know, served in the Armed Forces or did National Service and are now battling severe sight loss, find out how Blind Veterans UK could help by calling 0800 389 7979 or visiting blindveterans.org.uk.
For all media enquiries please contact: Felix Arbenz-Caines, PR Assistant, Blind Veterans UK, 12 – 14 Harcourt Street, London W1H 4HD, E: felix.arbenz-caines@blindveterans.org.uk, T: 020 7616 7941
Notes to Editor
Blind Veterans UK
Blind Veterans UK is a national charity that believes that no-one who has served our country should have to battle blindness alone. It provides blind and vision-impaired ex-Service men and women with lifelong support including welfare support, rehabilitation, training, residential and respite care.
Find out more at: www.blindveterans.org.uk, and follow us on Facebook at: facebook.com/blindveteransuk and on Twitter at: twitter.com/blindveterans.