A celebration of 100 years of the Royal Air Force was held at London's British Museum last Wednesday, attended by the Chief of the Air Staff Air Chief Marshal Sir Stephen Hillier.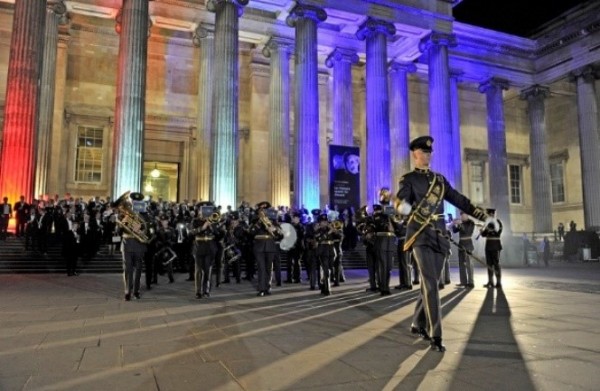 He was joined by Air Chief Marshal Sir Stuart Peach, Chairman of the NATO Military Committee, as well   as Air Vice-Marshals Gary Waterfall, Richard Knighton, Julian Young and Chris Elliot. Serving personnel and supporters of the Royal Air Force also attended to raise money for the RAF100 Appeal, which benefits four military charities, the RAF Benevolent Fund, the Royal Air Forces Association, the RAF Museum, the RAF Charitable Trust and the Royal Air Force.
Guests enjoyed displays from The Queen's Colour Squadron and The Band of the RAF Regiment. At the end of the event, sponsored by Boeing, a charity auction saw a range of lots auctioned off, including the RAF100 Relay Baton and a special limited-edition Breitling watch.
Air Vice-Marshal David Murray, Chief Executive at the RAF Benevolent Fund, said: "What a fantastic evening marking the centenary of the Royal Air Force, the world's first independent air force. A moment to stop and commemorate with pride those who have served, thank those who serve today and keep inspiring those who might serve in the future.
"The RAF's role extends far beyond combat missions. Whether that is through its proud record of humanitarian intervention around the world, or closer to home through its service to the UK public, the RAF is always on hand when people need it the most. The RAF Benevolent Fund is proud to stand side by side and support those serving personnel or veterans and their families in their time of need."
For more information and high res images please contact:
Rebekah Sharrock, PR Officer, RAF Benevolent Fund
E: rebekah.sharrock@rafbf.org.uk | T: 020 7307 3305 | M: 07595 657979.
RAF Benevolent Fund:
The Royal Air Force Benevolent Fund is the RAF's leading welfare charity. We exist to support current and former members of the RAF, their partners and dependants, whenever they need us. In 2017 we spent £18.8m supporting more than 55,000 members of the RAF Family. For more information visit:  www.rafbf.org Twitter: https://twitter.com/RAFBF.