Daffodils and Welsh flags filled The Royal Star & Garter Homes on Friday, 1 March as the Charity celebrated St David's Day with veterans.
The Homes in Solihull and Surbiton also marked the feast day of the patron saint of Wales with quizzes on the country and by playing music by well-loved Welsh singers such as Tom Jones and Shirley Bassey. They also tucked into delicacies including Welsh cake.
On the lunchtime menu in Solihull was also 'lamb cawl' and 'leek and onion hot pot'.
Raquel Pena Aristizabal is the Activities & Volunteers Manager at the Home in Surbiton. She said:
"It was a lovely day and to have so many gorgeous daffodils in the home, you could feel Spring is on its way! Some of the residents and staff here are Welsh, so it was wonderful to help share and celebrate this special day with them."
Glynne, a resident at the Solihull Home, described himself as "a proud Welshman". He said: "It's nice to celebrate St David's Day."
The Royal Star & Garter Homes cares for ex-Servicemen and women and their partners living with disability or dementia.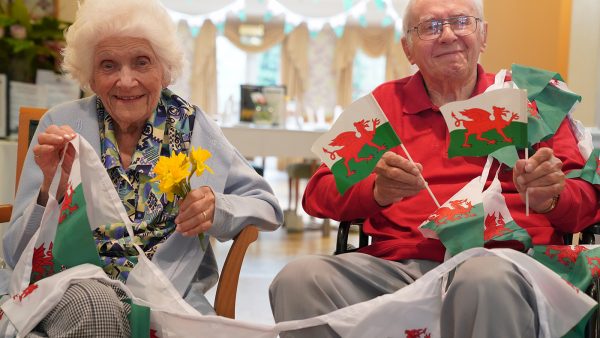 The Charity always tries to make sure residents are connected to national events. In January, the two Homes celebrated Burns Night with haggis, whiskey bagpipers, drummers, and traditional Scottish dancing.
For further information please contact Goolistan Cooper, Communications Officer, goolistan.cooper@starandgarter.org / 0208 481 7669 / 07391 868796
Cally Madden, Marketing & Communications Manager, cally.madden@starandgarter.org / 020 8481 7692 / 07881 017299
About The Royal Star & Garter Homes:
The Charity provides award-winning care for veterans and their partners who live with disability or dementia.
The Royal Star & Garter Homes is a charity founded in 1916 to care for the severely injured men returning from the battlegrounds of the First World War.
Today our friendly, state-of-the-art Homes offer a pioneering approach to nursing, dementia and therapeutic care. We have award-winning Homes in Solihull, West Midlands and Surbiton, Surrey. Our third Home in High Wycombe, Buckinghamshire opened in spring 2019. We are expanding our services to reach even more veterans through our day care service – the Star & Garter Club – and interim care for young disabled Service personnel.
We are proud to have enjoyed Royal patronage since our foundation, including that of Her Majesty Queen Elizabeth II from 1953 to the present day.
Twitter: @starandgarter
Facebook: facebook.com/starandgarter
Website: www.starandgarter.org
The Royal Star & Garter Homes is a member of the National Care Forum – the leading voice for not-for-profit care providers. A national perspective may be available from info@nationalcareforum.org.uk or by contacting 02476243619. More details on NCF available at www.nationalcareforum.org.uk