Thomas Kenning, from Market Rasen, and stationed at RAF Odiham, returned from a four month tour in Mali, and thought his life was over.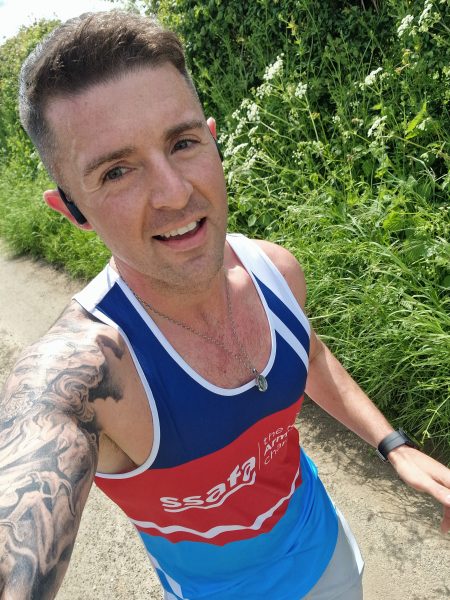 Devastated by the end of his marriage, whilst on tour, Thomas struggled to cope with the large amount of logistical issues at the same time as being overwhelmed by sadness. He reached out to SSAFA, the Armed Forces charity, for help. Six months later and he is so grateful to SSAFA that he is running a Tough Mudder in order to raise funds for the charity.
Thomas, based at RAF Odiham in Hampshire, said:
"I was in a very fragile mental state, which was very difficult for me to come to terms with.

"SSAFA were the first people I thought might be able to help. I walked into their office to ask for signposting, but the practical help just poured out!

"Jenna, the Support Worker took one look at me and saw I was in a mess. She was kind and knew all the steps I had to go through from a work perspective. It was totally unconditional and impartial."
SSAFA run a fully confidential Personal Support and Social Work Service for the Royal Air Force community.
Jenna Middlemass, Personal and Family Support Worker said:
"Military staff and families face some unique challenges such as regular deployments, having to live apart and frequent moves. Our team provides comprehensive and confidential support, with a special focus on services for adults, but including children, young people and their families."
SSAFA helped find funding for Thomas's ex-wife to move into a house not too far away. This meant that the children could stay in the same school and, vitally for Thomas, he was able to have 50:50 residency with his children because he was allowed to retain his quarter and the children had not moved too far away.
Thomas said:
"I have two children, aged 11 and 7. I could not imagine what life would be like if they didn't live with me, at least some of the time. To begin with I felt I was about to lose everything, but actually, with a bit of help, it really has all turned out OK. Jenna really helped me and my ex to communicate and co-parent."
In the early stages Jenna also encouraged Thomas to take his mind off his difficulties by exercising.
"So I just started running, doing cross-fit and paddleboarding, and she was right – it really made me feel better. I lost 31kg and feel great. So I decided to give a bit back and challenge myself at the same time."
On 12 August Thomas is competing in the South West Tough Mudder on the Badminton estate in Gloucestershire. Runners negotiate such obstacles as the Arctic Enema, the Cage Crawl, and the Mudderhorn, showing their strength, stamina and true grit.
If you would like to support Thomas, and help SSAFA to provide assistance to veterans, service people and their families, donate at: https://www.justgiving.com/fundraising/thomas-kenning