Sally Orange, from Salisbury, long-time fundraiser for SSAFA, the Armed Forces charity, is just back from running the world marathon (seven marathons, each on a different continent, completed in seven days) and has now set her sights on running the London marathon to support SSAFA yet again.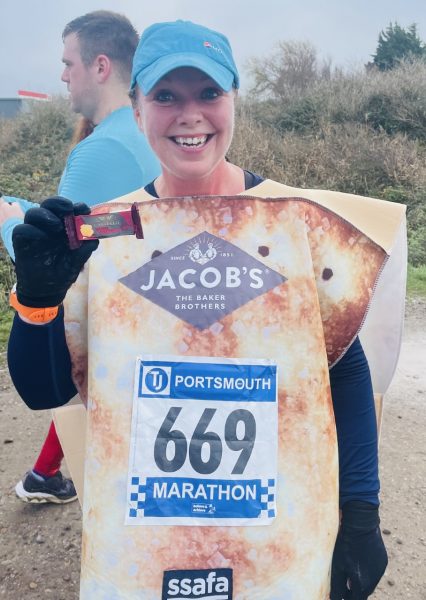 Sally is a former British Army Major who served for 22 years in the Royal Army Medical Corps as a Physiotherapy Officer. Since leaving the Armed Forces, she has embraced all kinds of epic endurance and adventure challenges, raising money for countless charities over the last few years, often in fancy dress.
Having faced her own challenges with severe depression and chronic anxiety Sally strives to raise awareness and help remove the associated stigma. In all her activities she encourages others to manage their own mental well-being through healthy eating, physical activity and a positive mindset.
Sally says:
"I really am crackers about mental health and know that by working together, we can crack the stigma associated with it. By talking about it out in the open, people can get the help that they need to be able to get through the difficult times they face."
On Sunday Sally attended a SSAFA marathon training photo shoot for Armed Forces runners to give moral support and a few tips on marathon running.
Marco Turnbull (19 years old), youngest SSAFA marathon runner and Royal Engineer, said:
"Meeting Sally was like meeting a legend. She's a total inspiration. I'm here worried about getting around the 26 miles, and she's there doing it all, after just completing a world record, and dressed up as a cracker biscuit too!"
If you are interested in running the London marathon for SSAFA next year, please visit https://www.ssafa.org.uk/support-us/challenge-events/run/tcs-london-marathon-2024