Monday 28 February 2022
3:30 – 5:30pm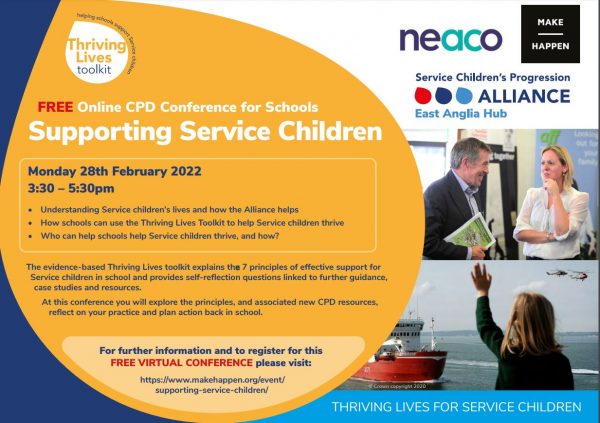 Did you know that only 24% of service children participate in higher education, compared to 43% of the general population?
Service children are defined by the SCiP Alliance as 'a person whose parent or carer serves in the Regular Armed Forces, or as a Reservist, or has done at any point during the first 25 years of that person's life'.
Service children can experience disrupted schooling, less access to extra-curricular activities and challenges with the curriculum when transitioning between schools or colleges. The Thriving Lives Toolkit is a free evidence-based framework of seven principles to assess, develop and implement a support structure to best allow service children to thrive.
Who this event is for
Anyone who works with young people in Essex, Suffolk, Norfolk, Cambridgeshire or Peterborough, such as:
Teachers
School and college pastoral staff
School and college leaders
Local authority staff
What you'll learn
What is it like to be a service child?
Why do service children need additional support?
What is the Thriving Lives toolkit?
How can we better support service children through the Service Pupil Premium and the Thriving Lives Toolkit?
How can Make Happen/neaco continue to support you and your students?