Media Invite – Photo and Interview opportunity
When: Thursday 12 September – from 7pm
Where: The Coach House, 24 High St, Brighton BN2 7HR
National military charity Blind Veterans UK will be holding an open demonstration of how recent developments in virtual reality (VR) technology can be beneficial to those living with vision loss.
The event is made possible by the proprietors and patrons of the Coach House in Rottingdean, who raised over £1500 in funds towards the purchase of the equipment which will be featured in the demonstration and will play host to the event on Thursday 12 September.
Local blind veterans will be taking part in a VR experience following an introductory talk from the Blind Veterans UK Technology team. This will include a briefing on what has been achieved so far within the charity and how the newly-purchased equipment will be used to the benefit of blind veterans.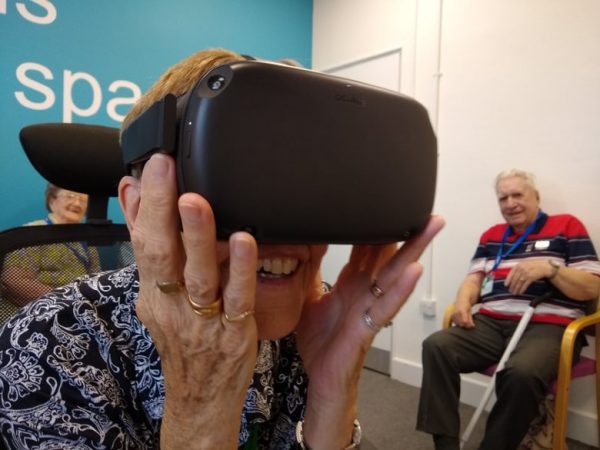 Central to the demonstration will be two Oculus Quest headsets. Leon Groombridge, of the Blind Veterans UK Technology team says:
"At Blind Veterans UK we are always looking to incorporate the latest technology into our repertoire. One of the most exciting developments in recent times is exploring the potential uses of VR.

Perhaps surprisingly, those with some residual vision tend to report that the VR headsets we use offer far better visual clarity than real-life. This could be due to many factors, but at this stage it's difficult to provide a definitive answer. Not all of our blind veterans will have positive experience with VR headsets, but we have found that more often than not they are amazed by how much they can see and enjoy using the equipment."
Some of this improved visual clarity can be explained by the proximity of the headset to the eyes as well as the brightness of the light. Colours will often appear more saturated and with increased levels of colour contrast. For those that are visually impaired this can mean that images are more distinct and objects are easier to locate.
Hayley Kember, of the Coach House Rottingdean, says of their relationship with the charity:
"We have long been supporters of our local Blind Veteran Centre in Ovingdean – the facilities and support they provide for both their members and their members' families is fantastic. 

"As we have grown close to both staff and members we wanted everyone to benefit from the money we had raised. We have heard lots of great things about the new VR equipment and are very keen to see it in action. The equipment demo will also give us an opportunity to involve our local community and show them how best the money they have helped to raise has been put to use"
Kevin Alderton, blind veteran and Working Age Members Liaison Officer for Blind Veterans UK, says:
"We are absolutely delighted to accept such generous support from the Coach House and are very excited to be able to use these funds to further our capability to bring this cutting-edge technology to our veterans. It's amazing to see the reactions it brings to the faces of those who have experienced sight loss and are able to enjoy the benefits of VR equipment."
For all media enquiries please contact:
Ailie MacDonald Wilson – Regional Marcomms Executive (South East) ailie.macdonaldwilson@blindveterans.org.uk / 07599 535484
Notes to Editor
Blind Veterans UK helps vision-impaired ex-Service men and women of every generation rebuild their lives after sight loss. Since 1915 we've provided rehabilitation, training, practical advice and emotional support to tens of thousands of blind veterans.
Find out more at: blindveterans.org.uk and follow us on Facebook at: facebook.com/blindveteransuk and on Twitter at: twitter.com/blindveterans.