The Taxi Charity for Military Veterans would usually be in The Netherlands each September with a group of veterans for the annual Wandeltocht in Oosterbeek, where over 30,000  walk a selection of routes, to remember the Battle of Arnhem, in 1944, when over 1,700 British and Polish soldiers and airmen lost their lives.
This year the COVID restrictions meant the 74th organised  Airborne March event for thousands of participants  would not be possible, but ex Paratrooper and Taxi Charity supporter Chris Willmott, 59, from Bexley, had a very special reason to want to complete the full 40km walk this year.
Accompanied by Eveline Kroot, a Captain and Anne Haveman, a Reservist in the Dutch Army, Chris set off at 7.30am on Saturday 5 September to walk the route carrying the ashes of 7th Para Battalion Veteran Frank Pendergast, who passed away earlier this year and always loved attending Wandeltocht with the Taxi Charity.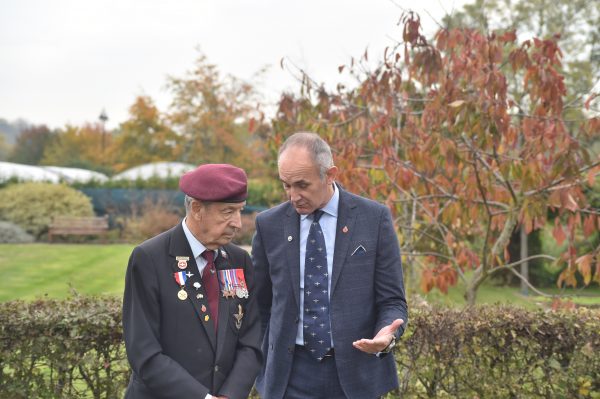 Frank and Chris originally met through the Parachute Association and they formed a great friendship. Chris was a regular visitor to Frank's home and was soon accompanying him on Taxi Charity events throughout the UK and across the continent. Frank was a 6th Airborne veteran, not an Arnhem veteran,  but he loved the Taxi Charity visits to The Netherlands as much as those to France,  as it gave him precious time with other veterans and the opportunity to remember the sacrifices so many had made.
After Frank's funeral, his son David asked Chris if he would carry Franks ashes on the Wandeltocht before they are interred in Ranville next year.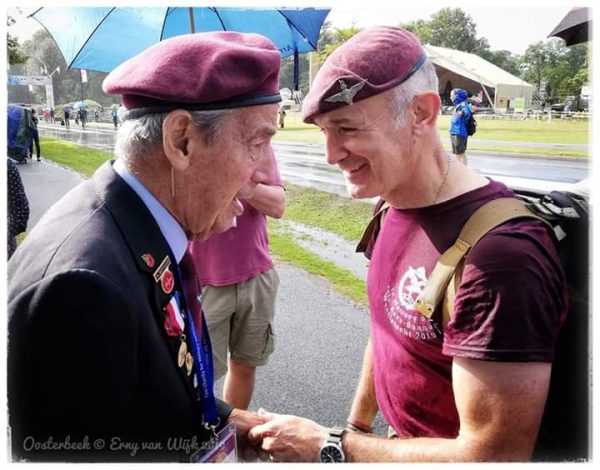 Eveline and Anne mapped out the route and Frans Ammerlaan from the Dutch Market Garden Foundation who helps the Taxi Charity to organise its visits to the Netherlands, supported the three walkers with lunch and encouragement on route. They completed the twenty-five-mile walk just before 4.00pm.
Chris Willmott, said,
"Although the official event had been cancelled the Dutch anticipated that a few hundred people would still participate in some way, with many walking small sections of the route. It was important to me that I walked the full route and I was delighted when Eveline and Anne said they wanted to join me on this special occasion. This was my fourth Wandeltocht and I fully intend to complete the walk every year until I am no longer able to."
Dick Goodwin, Vice President, Taxi Charity for Military Veterans, said
"This year has been very difficult for our veterans with all our planned activities to mark the anniversaries of D Day,  VE Day, VJ Day and the 80th anniversary of the Battle of Britain as well as our annual trip to Worthing, having to be cancelled. Wandeltocht is a much-loved occasion for our veterans and the Dutch hold these WWII veterans in such high regard and they meet and often stay with the extended families of those they liberated during WWII."
To find out more about the Taxi Charity for Military Veterans visit www.taxicharity.org
About Wandeltocht
The Airborne March is the annual Dutch commemorative event in remembrance of the Battle of Arnhem in September 1944 that began in 1947 and always takes place on the first Saturday in September at Oosterbeek near Arnhem in The Netherlands. The march is one of several events attended by veterans, living relatives, soldiers and British army cadets plus RAF and air cadets from the  United Kingdom together with Dutch military, police and civilians to commemorate the 1,750 British and Polish soldiers and airmen who lost their lives at the Battle of Arnhem during WWII and who are buried at the Airborne Cemetery at Oosterbeek.
About the Taxi Charity
The Taxi Charity for Military Veterans was formed in Fulham in 1948, to work for the benefit, comfort and enjoyment of military veterans and arranges many trips every year for veterans from all conflicts.
The charity offers international trips to The Netherlands, Belgium and France, UK day trips to concerts or museums, transport to attend fundraising events, as well as special days out to catch up with friends and comrades.
To fund and facilitate these outings, the charity is wholly reliant on generous donations from members of the public, businesses and trusts and the amazing group of London licensed taxi drivers who offer their time and vehicles free.