We are delighted to announce that The Not Forgotten has won the Lifetime Achievement Award at the spectacular Soldiering on Awards livestream event.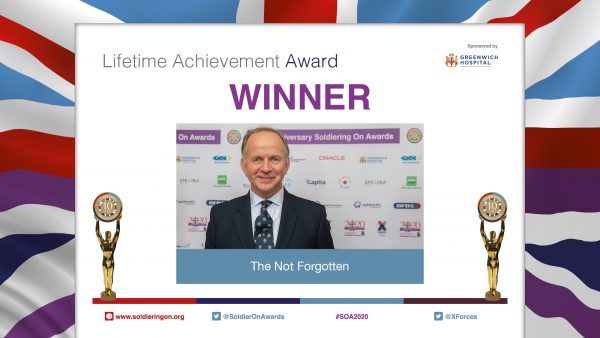 The Facebook livestream event was hosted by BFBS Radio's Jade Callaway, broadcast from BFBS studio in Chalfont St Peter, with Lt Colonel Ren Kapur MBE, CEO of X-Forces Enterprise and Co-Chair of the Soldiering on Awards (SOA). It celebrated all the Soldiering On Awards 2020 finalists and winners and also featured the Chief of Defence Staff, General Sir Nick Carter GCB CBE DSO ADC Gen, Soldiering On Awards President, General the Lord Dannatt GCB CBE MC DL, and X-Forces Enterprise Patron, Lieutenant General Richard Nugee CB CVO CBE along with SOA Ambassadors Carly Paoli and Vicki Michelle MBE and finally Adam Waters, Director of Creative at BFBS, Soldiering on Awards media partner.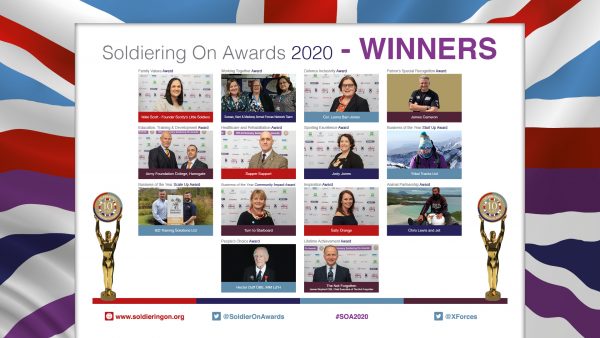 The Not Forgotten has served our military community for over 100 years. In 1919 their founder, Marta Cunningham, witnessed hundreds of men languishing on the wards, suffering from wounds sustained in The Great War. She set up The Not Forgotten and in its first year it entertained around 10,000 individuals. In 2018/19 it supported 10,471 people from all Services, from WWII Veterans to those still serving. The oldest beneficiary was 106 years old, and youngest was a serving 23-year-old.
The Not Forgotten partners with every military charity, association and organisation. They help any currently serving member or Veteran who is ill or suffering regardless of service, age, rank, length of service or type of illness. Their support includes putting on concerts, outings, respite holidays, TVs and TV Licences. Since 1921 they have had two annual Royal events, a Garden Party and Christmas Party for 3,000 individuals.
Johnnie Ray, beneficiary of the Not Forgotten said:
"Amazing! The Not Forgotten found me when I was going through a little bit of a tough time, they came along when I really needed them at that time of my life. Ever since then, I've been with the Not Forgotten, helping the Not Forgotten.  

"Even though it's a small charity it's a mighty charity in my eyes, it has done so much for so many people; they entertain 10,000 people every year from a 23 year old to a 103 year old which is fantastic. They never stop, even through the still entertain thousands veterans and serving personnel and through the difficult times they have been doing outside concerts for nursing homes and things like that.  I can't praise the Not Forgotten enough, what's the cherry on the cake is that they have been going for 100 years this year which is even more fantastic." 
Andrew Turner, Interim Director, Greenwich Hospital said:
"This is the second year Greenwich Hospital has had the privilege to recognise and support such a prestigious award to an individual or organisation who has shown exceptional service and dedication to our country. We are honoured to be sponsoring this Lifetime Achievement Award."  
The other finalists were SSAFA volunteer, Emlyn Phennah and Harold Payne.
Royal Air Force Veteran and SSAFA volunteer, Emlyn Phennah has dedicated his life to helping others.  Emlyn runs SSAFA and Age UK's Joining Forces programme in Gloucestershire. The programme organises events for Veterans born before 1950, their families and carers, plus Veterans who face loneliness and isolation – and the programme reaches an incredible 3,000 people.
Harold Payne has worked tirelessly for military charities for the past 40 years, whilst also running his business. He has raised over £800,000 for Anglia Regiment, RAF Coningsby and RAF Colsterworth, as well as local hospices and charities which serve the aging Veteran community. His work has changed the lives of thousands of Veterans.
Award sponsor, Greenwich Hospital, is a Crown Charity providing funding including annuities, sheltered housing and education to serving and retired personnel of the Royal Navy and Royal Marines, and their dependants.
Lt Colonel Ren Kapur MBE, Co-Chair of the Soldiering on Awards said:
"We know that this year is very different, but what remains is that magic dust, the excitement, respect and support which exists across our community and the lifetime achievement finalists are all a testament to this commitment and selflessness.  

"I am so inspired and humbled to be part of the Soldiering on Community. Across the last few weeks, in these strange times we are all living through, we have heard the stories of those who have given so much to support, raise money or comfort those who need it most. Congratulations to all the winners and finalists this year, we will meet again next year, and I can't wait to celebrate in person." 
The Earl Howe, Patron of the Soldiering on Awards said:
"Despite the virtual backdrop, the last few weeks have been a tremendous celebration. All the finalists' achievements cover an impressively wide range, from driving change in the Armed Forces environment and supporting our veterans' community, to fields beyond Service life – be that sport, business, charity-work or public service. 

"Huge congratulations to ALL our fantastic 2020 winners and finalists. We look forward to celebrating you all in person next year, you are such an inspiration to us all." 
Celebrating all the winners; many congratulations to everyone:
Week 1 winners 
Nikki Scott, Founder of Scotty's Little Soldiers is the winner of the Family Values Award – sponsored by The Military Mutual.
The Sussex, Kent & Medway Armed Forces Network Team is the winner of the Forces in Mind Trust's Working Together award
Colonel Leona Barr-Jones is the winner of the Defence Inclusivity Award – sponsored by Landmarc
Week 2 winners 
The Army Foundation College, Harrogate is the winner of the Education, Training and Development – sponsored by Capita
Sapper Supportis the winner of the Healthcare and Rehabilitation award – sponsored by the Redwood Technologies Group
Jody Jones is the winner of the Sporting Excellence award – sponsored by Spectra Group
James Cameron, CEO and Founder of Mission Motorsport is the winner of the Patron's Special Recognition Award
Week 3 winners 
Tribal Tracks is the winner of the Business Start Up Award – sponsored by GKN Aerospace
IED Training Solutions is the winner of theBusiness Scale Up award – sponsored by the London Stock Exchange Group
Turn to Starboard is the winner of the Business Community Impact award – sponsored by CISCO
Week 4winners 
Sally Orange is the winner of the Inspiration Award – sponsored by NatWest
Chris Lewis and Jet are the winners of the Animal Partnership Award – sponsored by Pets at Home
101-year-old Hector Duff is the winner of the People's Choice Award – sponsored by Oracle