We are delighted to share details of the IGF Conversation on 9 September 2023 from 1000-1200 CET in a marquee within the Team Respect Area of the Merkur Spiel-Arena, Düsseldorf.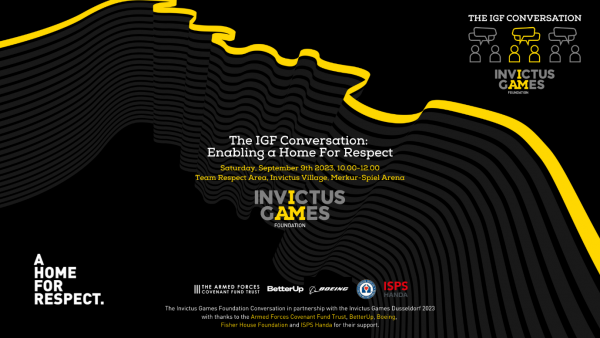 This iteration of the IGF Conversation will be entitled 'The Invictus Community: Enabling a Home for Respect' and draws on the central theme of IG2023 of emphasising the common ground between the military and their respective societies and how they can both support and learn from each other.
It will be based around 3 core strands:
exploring how the Invictus Community of nations might support the significantly pressing requirements of sport recovery for other member nations;
focusing on the increasingly key role of families within recovery pathways;
and then looking at the common lessons to be drawn in encouraging mental health and wellbeing through sport.
The event will be moderated by well-known German TV sports commentator and presenter Franziska Schenk who has been working for the German TV Channels ARD and MDR since her retirement from professional speed skating.
This a hybrid-event so that those who are not able to physically be at the Games will still be able to watch The IGF Conversation virtually. Please just register your attendance online by choosing the in-person or virtual ticket option. You can register your attendance, at The IGF Conversation for free via the Reattendance link below:
https://reattendance.com/public/6072