The Poppy Factory, based in Richmond-upon-Thames, has won the Healthcare and Rehabilitation Award at the 2019 Soldiering On Awards, at a special ceremony honouring the Armed Forces Community.
The Poppy Factory was founded almost 100 years ago, to provide employment for veterans injured in the First World War.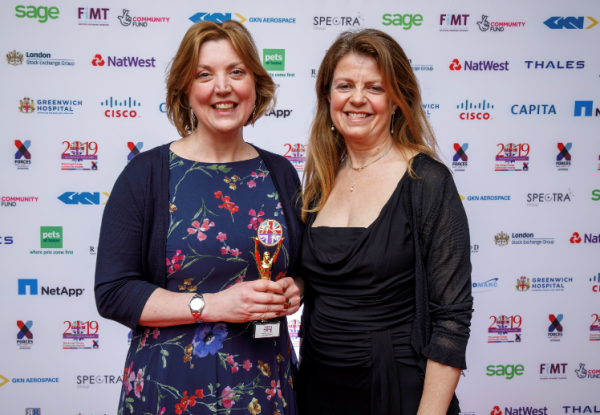 It has made millions of Remembrance products for the Royal British Legion and the Royal Family and is also the nation's largest employability service for veterans with disabilities. It helps former personnel to find meaningful jobs in the public, private and voluntary sectors.
The Soldiering On Awards celebrates the achievements of the military community, by honouring serving personnel, veterans, their families and organisations that support them. Carol Vorderman, who is an Honorary Group Captain in the RAF, and former Royal Marine JJ Chalmers hosted the evening at the Park Plaza Hotel, Westminster Bridge.
Senior military personnel including Lt General Richard Nugee, Chief of Defence Personnel and Defence Minister Tobias Ellwood MP were among those who attended the event.
Deirdre Mills, Chief Executive of The Poppy Factory, said: "We are delighted and honoured to receive this award. It recognises not just the efforts of our own highly dedicated team but the hard-won success of every veteran who, with the support of The Poppy Factory, has stepped forward into a new job or career.
The Poppy Factory's employability programme has been running for as long as the Soldiering On Awards, and in those nine years we have helped more than 1,100 veterans with physical and mental health conditions back into meaningful and sustained employment. Demand for our expertise continues to rise, and we look forward to helping thousands more veterans fulfil their potential outside the armed forces."
Martin Taylor, Deputy CEO of Redwood Technologies Group, said: "We are delighted to sponsor the Healthcare & Rehabilitation Award for the third year running, and the Awards Night is a fantastic celebration of the continuing professionalism and devotion of serving and former members of Britain's Armed Forces. The stories of hard work and dedication by the winners and all those who were nominated are truly inspiring and humbling. The Poppy Factory is a deserving winner, and demonstrates an ongoing support to the military community, which is of significant importance to the whole of the country. Congratulations to them and all they represent."
Awards Patron the Rt Hon Earl Howe PC Minister of State for Defence and Deputy Leader of the House of Lords said: "It has been humbling and a delight to celebrate the achievements of the Armed Forces Community tonight, at this year's Soldiering On Awards. Each of the Finalists is a shining example to all of us, with their can-do attitude and valuable skills learnt in the service of our country. 2019 is a milestone year for the Soldiering On Awards, which has evolved to become fully incorporated within X-Forces Enterprise (XFE) following the success of our partnership in 2018. This means that tonight's Award winners will be offered on-going support; ensuring that winning a Soldiering On Award is not an end in itself, but the next step to empower and support the aims and goals of each winner".
Carol Vorderman MBE said: "The Armed Forces community means a lot to me and I was absolutely thrilled to be invited to host this year's Soldiering On Awards.  The UK's military personnel and their families are some of the most dedicated in society, and it is no surprise to me that these individuals are achieving such amazing things. It is a testament to the hard work and tenacity of each of them, that they are Finalists in this year's Awards. They are all making a difference to society whether in the provision of mental health care, on the sporting field or in business. It is wonderful to shine a spotlight on their outstanding achievements, and I can't wait to congratulate them all."
JJ Chalmers said: "It was a huge honour to be asked to be part of such a special night, particularly alongside Carol; who has tirelessly supported the Armed Forces. During my life and especially throughout my recovery, I have drawn my inspiration from the individuals around me, some of whom have been nominated here. Many of them are unsung heroes and I'm grateful they have the opportunity to have themselves and their endeavours recognised publicly".
Thirteen Awards were be presented in all, honouring achievements ranging from Sporting Excellence to Family Values and Business Awards to Lifetime Achievement. Arts Ambassador Carly Paoli performed a special song, in recognition of Remembered: There But Not There, in honour of all those who made the ultimate sacrifice during World War One.
Now in it's ninth year, the Soldiering On Awards is the biggest Armed Forces Community Awards evening and this year's winners will receive on-going support to help them achieve even greater things as they go forward.
Editors notes:
For additional photographs and media B-Roll please contact Kaija Larke at Larke Media: Kaija@larkemedia.com.