RMA – The Royal Marines Charity (RMA) has partnered with fintech Currensea to provide a branded debit card allowing supporters to donate to charity whenever they spend in the UK or abroad
Donations will support the charity's ongoing mental health, employment and education programmes aimed at veterans and serving Royal Marines
Card allows supporters to round up spending in the UK to donate to the charity and helps people save money when spending abroad by avoiding bank fees – people can also opt to donate some or all of these savings
This is the latest partner – and first military charity – to offer branded cards through Currensea's 'powered by' programme which allows charities to increase supporter engagement and boost donations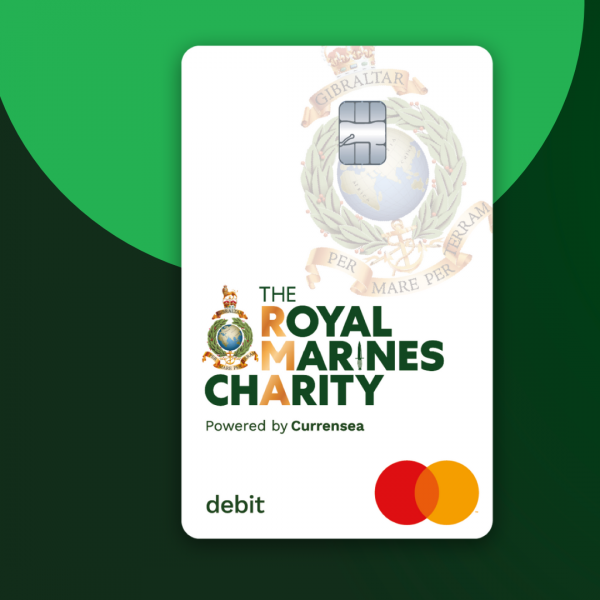 The new RMA – The Royal Marines Charity debit card, powered by Currensea and Mastercard, gives supporters the choice to make a donation to the Charity each time they spend at home or abroad.
The card links to supporters' existing bank accounts and is available to both members and supporters wishing to donate to the Charity. Donations can be made by rounding up spending to the nearest 50p or £1 in the UK, and also when spending abroad.
The Currensea card also allows users to save money when using the card abroad. People save at least 85% – and up to 100% – on every transaction abroad by removing the normal fees leveraged by banks and other card providers, and RMC supporters are able to donate some or all of these savings on top of the donations on UK spending. For example, a user spending $1500 while visiting the USA can choose to contribute 50% of their savings – which would equate to more than £20 – while still saving money.
Jonathan Ball, Chief Executive, RMA – The Royal Marines Charity, says:
"We are constantly looking for innovative ways to drive donations for our lifelong programmes for serving and former serving Royal Marines and their families. Our partnership with Currensea and the launch of our branded debit card will not only enable our supporters to donate easily and conveniently, but also provides them with a way to save money when spending abroad. We are also grateful to have this opportunity to attract new donors through Currensea's 'powered by' programme."
James Lynn, Co-Founder of Currensea, comments:
"Last year alone, 22,000 veterans and serving Marines contacted RMA – The Royal Marines Charity in need of support. This partnership will be vital in driving funding to support the fantastic work the charity performs in providing a wealth of support to those who have served our country. The new card also acts as a useful benefit for supporters during the cost of living crisis, ensuring they can both save money and continue donating to a cause close to their hearts.

"Supporters can donate to the Royal Marines Charity every time they use their Currensea card both in the UK and abroad. Charity donations can be made instantly and automatically as the card connects directly to existing current accounts, with users able to simply change the proportion of their savings they wish to donate. Our innovative powered by programme provides charities with a unique way to increase engagement with existing supporters, boost donations and attract new donors."
RMA is the latest charity to partner with Currensea's unique 'powered by' programme, launched in Q4 2021, which allows charities to issue branded cards to supporters and increase donations.
Currensea adds that one of the charities offering its own card through its 'powered by' programme has raised four times as much via donations from Currensea users compared to donations via Amazon Smile which closed recently.
Other 'powered by' partners include:
Dogs Trust – one of the UK's largest animal welfare charities
Royal Society of Medicine – a global membership organisation of 20,000 healthcare professionals
Royal Trinity Hospice – the oldest hospice in the UK
St Martin-in-the-Fields Trust – which works with many of London's most vulnerable communities
To find out more and sign up for a Royal Marines Charity powered by Currensea card visit:  https://www.currensea.com/partner/the-royal-marines-charity