On Friday 19 June The Taxi Charity for Military Veterans said goodbye to one of its much-loved WWII veterans Frank Pendergast.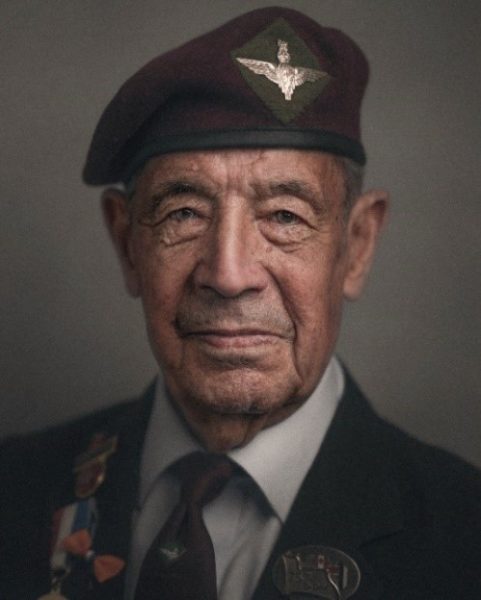 WWII veteran, Frank Pendergast 94, 7th Battalion The Parachute Regiment, who lived in Eltham, died on 30 May 2020. His funeral was held on 19 June at Eltham crematorium.
Due to social distancing restrictions the Taxi Charity veterans, volunteers and committee were unable to attend the service so they made a Guard of Honour and arranged for two buglers to line the route along Crematorium Drive to the entrance of the crematorium.
Frank was one of the Taxi Charity's group of bucket collectors and helped to raise thousands for the charity. He loved joining the charity visits to The Netherlands and France accompanied by his good friend Chris Wilmott and meeting some of the relatives of the families that he had helped to liberate during WWII. Frank joined 7th Battalion of the Parachute Regiment as it advanced through Belgium in October 1944 and took part in the Battle of the Ardennes when the Germans broke through Allied lines in December of that year.
Chris Willmott, Taxi Charity volunteer and Frank's good friend, said,
"While many think of our veterans just as heroes that only come out on special occasions, I knew Frank as a close personal friend. We could discuss anything and see beyond each other's short comings. It is hard to think that he has gone, and I will never see him again, it feels more like he has just popped out and will be back again soon."
Dick Goodwin, Vice President, The Taxi Charity for Military Veterans, said,
"Frank was a very special part of the Taxi Charity for Military Veterans family and he was of the first veterans I met over twenty years ago. Frank was committed to the charity and helped raise funds to ensure more veterans could be supported by shaking a bucket at London train stations and charming commuters with tales from the war. Frank's favourite tipple was a gin and tonic, always in a balloon glass, and we shall all be raising a glass to him. Sleep tight soldier and thank you for your service."
About Frank Pendergast
Frank Harry Edward Pendergast was born, to Frederick and Mary, on 31st August 1925. He had 8 siblings – unfortunately 2 died before he was born, and his younger brother Charles died aged 5.
To Rose, Alma, Violet, Patricia & George he was always the kid brother.
Frank was too young at the start of WWII so six months later he joined 7th (L.I.) Battalion, 5th Parachute Brigade of the 6th Airborne Division.
His son once asked him why the parachute battalion and he said, "for the extra two bob a week." Parachute battalions did not exist before WWII and you can imagine the top brass deciding how to get men to volunteer to jump out of a plane supported by just a canopy of silk and ropes. 'Pay them more money'. Well it certainly worked for Frank.
The Battalion he was to join held the canal and river bridges at Ranville & Benouville in Normandy on D-Day which were later named Pegasus and Horsa Bridges as a tribute to the Airborne force that arrived, holding them until relieved by commandos coming up from the beaches.
Christmas eve 1944 saw his battalion taken by boat and road to Belgium where they fought in the Ardennes at what became known as the Battle of the Bulge.
Frank married the great love of his life, Betty Irene Kennell in 1947 and they were married for 66 years until Betty passed in 2014. They had two children and three grandchildren.
In recent years Frank was presented with the Legion d'Honneur by a grateful French government and an equivalent Freedom medal by the Dutch.