Volunteer London licenced taxi drivers took three WWII veterans to the Sun Inn in Faversham to support the launch of the Kent Community Foundation Knock and Check Campaign which asks the community to look out for their elderly neighbours this winter.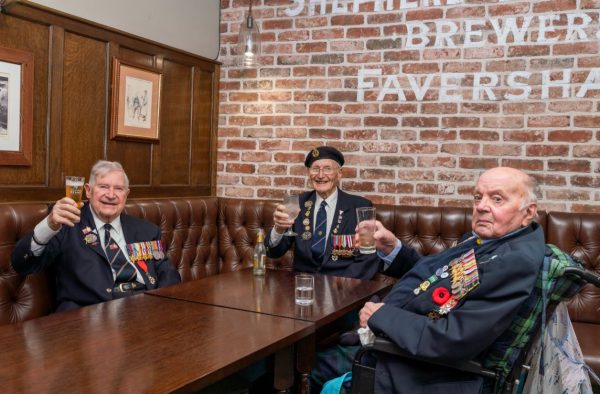 Among the veterans was 95-year-old Peter Smoothy, who ran the Four Fathoms in Herne Bay for over forty years for Shepherd Neame. Peter lives alone and like many elderly men and women he can feel lonely and isolated. Shepherd Neame wanted to get involved with the Kent Community Foundation Knock and Check campaign and invited Peter to one of their pubs for lunch. A small act of kindness which is at the very heart of the campaign.
Josephine McCartney, Chief Executive, Kent Community Foundation, said,
"Figures from Age UK tell us that almost 30,000 people in Kent say they feel lonely all or most of the time. Add to this the 1,600 avoidable winter deaths in Kent and we knew we wanted to do something to help our elderly neighbours across the county. We all witnessed the amazing community spirit seen during the fi­rst months of the pandemic and we want to reignite this feeling by asking the county to come together to knock and check on the most vulnerable during the colder months."
Dick Goodwin, Vice President, Taxi Charity for Military Veterans, said,
"The Taxi Charity is delighted to support the Knock and Check Campaign. Throughout the pandemic we have been looking at different ways to keep in touch with our veterans and the Kent Community Foundation campaign will be another way to support those living alone and feeling lonely or isolated. We were only too happy to offer to drive WWII veterans Peter, Jeff and Donald to Faversham and it was lovely to see the way they laughed and joked throughout the lunch."
Shepherd Neame's Director of Managed and Tenanted Pubs Nigel Bunting said,
"We were delighted to welcome our former long-serving licensee Peter Smoothy back to enjoy a Shepherd Neame experience on the other side of the bar! We were also honoured to welcome veterans Jeff Haward MM and Donald Hunter and provide a safe setting for them to socialise together.  Shepherd Neame has been at the heart of the Kent community for more than 300 years, so we are pleased to work with Kent Community Foundation to promote this fantastic new campaign."
For more information about the Knock and Check campaign visit www.kentcf.org.uk/knockandcheck and if you know of a veteran that needs support please contact www.taxicharity.org
About the Knock and Check Campaign
The Knock and Check campaign is part of the annual Kent Community Foundation "Surviving Winter" initiative. During the winter Kent Community Foundation is asking the community to help save lives by looking out for and helping elderly neighbours. You can offer help with shopping, share something you have baked, give magazines or books you have read, arrange for prescriptions to be delivered  or just simply say hello and ask any help is needed. An online Knock and Check Resource Directory will list the help and support that is available to support the elderly.
People are reminded to maintain adequate social distancing when checking on neighbours and always use a chain or spy hole before opening your door.
For more information visit www.kentcf.org.uk/knockandcheck