The King's Lynn branch of one of Britain's largest food production companies, Tulip Ltd, has selected Scotty's Little Soldiers as its local charity for 2019 & 2020, providing continuous fundraising support over a two-year period and raising an initial £987 for the charity.
Staff at Tulip Ltd's King's Lynn office have undertaken a range of activity thus far in order to support children who have lost a parent in the British Armed Forces – this includes: a raffle, weekly Bonus Ball competition and regular bake sales, with the proceeds all going to Scotty's Little Soldiers.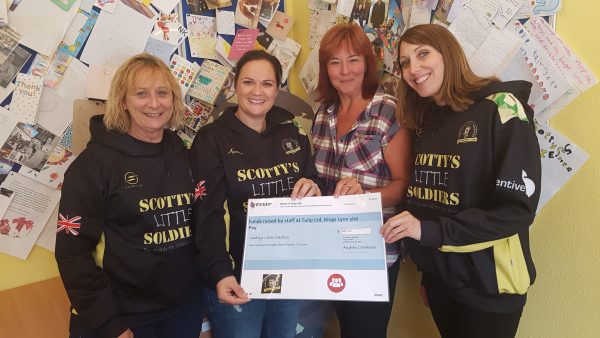 Founded by war widow Nikki Scott in 2010, Scotty's Little Soldiers is a national charity based in King's Lynn that supports children across the UK who have lost a parent while serving in the British Armed Forces. The charity was set up in memory of Nikki's husband and father to her two children, Corporal Lee Scott, after he was killed in Afghanistan in 2009.
Tulip Ltd's King's Lynn location means Scotty's Little Soldiers is a charity which many staff have been aware of and supported for some time. A number of staff members are ex-forces which also means the message of the charity particularly resonates.
Discussing the business' ongoing fundraising support, Jane McNaughton, HR Assistant, commented:
"We're enormously proud to have chosen Scotty's Little Soldiers as our local charity and have made a solid start to fundraising.

"Staff know just how much this money means to a charity like Scotty's so will go that extra mile when it comes to activity. Being based  locally to us , we are aware of the great work Scotty's Little Soldiers does for bereaved Armed Forces children across the UK and we know the need to continuously raise funds in order for them to continue their support."    
Charity founder, Nikki Scott said:
"On behalf of everyone at Scotty's Little Soldiers, we want to say a massive thank you to the Tulip Ltd team for their support of our charity.

"It's amazing when we hear a business is supporting our cause because it often means staff have shared our message and promoted the charity. We're always grateful when we see the effort people put in to raising money for our charity."       
To learn more about Scotty's Little Soldiers visit: http://scottyslittlesoldiers.co.uk/
Notes to editors
To speak to a member of the Scotty's Little Soldiers team, please contact Scotty's national PR agency: Claire Lomax (claire@wolfstarconsultancy.com), Chris Grayson (chrisg@wolfstarconsultancy.com), Rochelle Tattersall (rochelle@wolfstarconsultancy.com) or 0113 273 7816.
About Scotty's Little Soldiers
Scotty's Little Soldiers, founded in 2010, honours Corporal Lee Scott's memory – both as a loyal soldier and a loving father – and provides a practical yet personal way for the public at large to show their appreciation for those brave individuals who make the ultimate sacrifice in the service of their country. Currently Scotty's Little Soldiers supports 389 bereaved children and runs a variety of programmes to help children smile again and look forward to a brighter future. You can visit the charity online at http://www.scottyslittlesoldiers.co.uk/